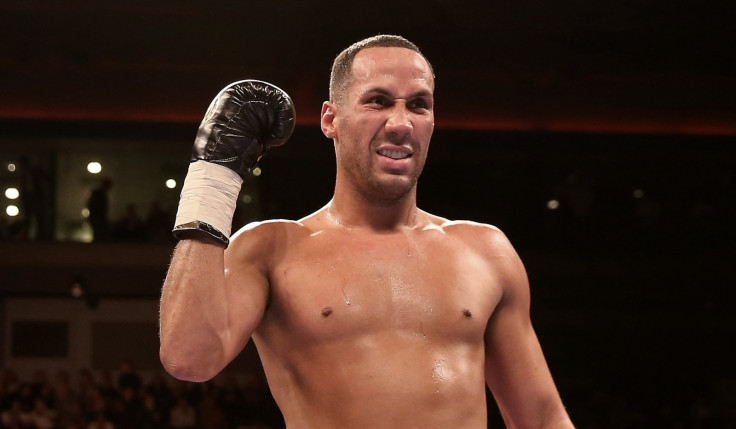 IBF super-middleweight challenger James DeGale has taken aim at Carl Froch and George Groves amid the pair's continued refusal to fight the Olympic champion.
Froch vacated his IBF crown on Monday 2 February in order to continue his pursuit of a Las Vegas clash with Julio Chavez Jr, while Groves has evaded a rematch with DeGale over the potential purse split between the two fighters.
DeGale was the mandatory challenger for Froch's title but is now likely to fight for the unassigned belt against Andre Dirrell at the O2 Arena on 25 April, instead of another all-British super-middleweight clash.
And the 29-year-old has hit out at the duo's evasive tactics by stating he is the heir to Froch at Matchroom Boxing, while claiming Groves has never recovered from the devastating knockout at the hands of the Cobra in summer 2014.
"To be honest I am not really fussed about Carl Froch, he's in the past," he said. "It's time for some new blood, another name to come through and hopefully I am the one.
"He [Froch] is still active but I think Eddie Hearn is looking for some new blood and a new face. Froch is at the end of his career, he's got a fight or two left him but we don't know if he's going to fight."
Asked for his reaction to Groves' refusal to agree to a rematch with him, DeGale responded: "It doesn't surprise me going by his last two performances. If I was him I wouldn't fight me. I don't want to say he is a shot fighter because he is still young but he is a bit shot."
The DeGale camp continued its criticism of the conduct of Froch and Groves throughout the announcement to confirm negotiations between the London-born fighter and Dirrell were at an advanced stage.
Adviser Ambrose Mendy said: "I was very fortunate to live in an era where fighters fought. I think Carl Froch had the chance to become a great fighter, he just needed to have fought him [James] but he didn't.
"We're a nation that pride ourselves on coming through wars but if you refuse to fight you are a coward, he refused to fight James.
"I sincerely hope he doesn't retire because once James wins the world title he'll have another opportunity."
Matchroom promoter Eddie Hearn added: "Everyone believes that James DeGale will beat George Groves now. Most do. And hopefully that is a fight that will happen down the line, there are some huge British super-middleweight fights out there."