Police are warning the public that watching the video appearing to show the beheading of an US journalist by Islamic State (Isis) militants could be a terrorist offence.
The video, uploaded to YouTube, reportedly shows journalist James Foley being killed by an Isis fighter speaking with a British accent. The video, entitled Message to America, was a retaliation to the US airstrikes in Iraq, according to the alleged killer.
Both British and US forces are investigating the legitimacy of the video, with the FBI telling Foley's family there is "no reason to believe" it isn't real.
Foley, a journalist who has covered conflicts in countries such as Iraq and Afghanistan, has been missing since he was captured by Sunni rebel fighters in Syria in 2012.
Prime Minister David Cameron returned to the UK to hold a Cobra meeting about the "shocking and depraved" alleged murder of Foley.
"He will meet with the foreign secretary and senior officials from the Home Office, Foreign Office and the agencies to discuss the situation in Iraq and Syria and the threat posed by Islamic State terrorists," a 10 Downing Street spokesperson added.
Foley's Sister: 'Don't watch video'
Scotland Yard's Counter Terrorism Command, SO15, has said it will be investigating the video and has warned people against viewing the graphic footage themselves.
A Met police spokesperson added: "We would like to remind the public that viewing, downloading or disseminating extremist material within the UK may constitute an offence under Terrorism legislation. "
Foley's sister, Kelly, also urged people on Twitter not to watch or share the video believed to show her brother's death.
YouTube has confirmed the video has been removed from its site and that it will terminate any accounts which are seen to promote terrorist ideology.
"YouTube has clear policies that prohibit content like gratuitous violence, hate speech and incitement to commit violent acts, and we remove videos violating these policies when flagged by our users. We also terminate any account registered by a member of a designated foreign terrorist organisation and used in an official capacity to further its interests," a spokesperson added.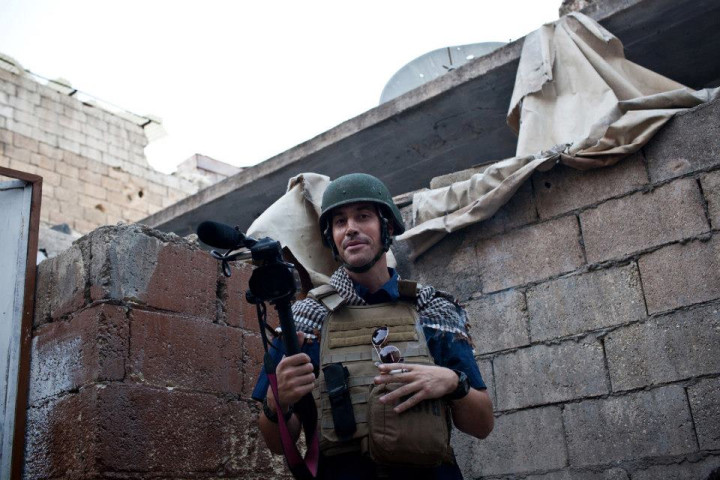 Twitter's chief executive Dick Costolo also warned people found posting images of video of the alleged murder to the social media site that their account will be suspended.
In a statement, Foley's family said they have "never been prouder of our son and brother".
Family's pride
They added: "He gave his life trying to expose the world to the suffering of the Syrian people. We implore the kidnappers to spare the lives of the remaining hostages. Like Jim, they are innocents. They have no control over American government policy in Iraq, Syria or anywhere in the world.
"We thank Jim for all the joy he gave us. He was an extraordinary son, brother, journalist and person. Please respect our privacy in the days ahead as we mourn and cherish Jim."
Foreign secretary Philip Hammond described the video of the Islamic State fighters as an "an appalling example of the brutality of this organisation".