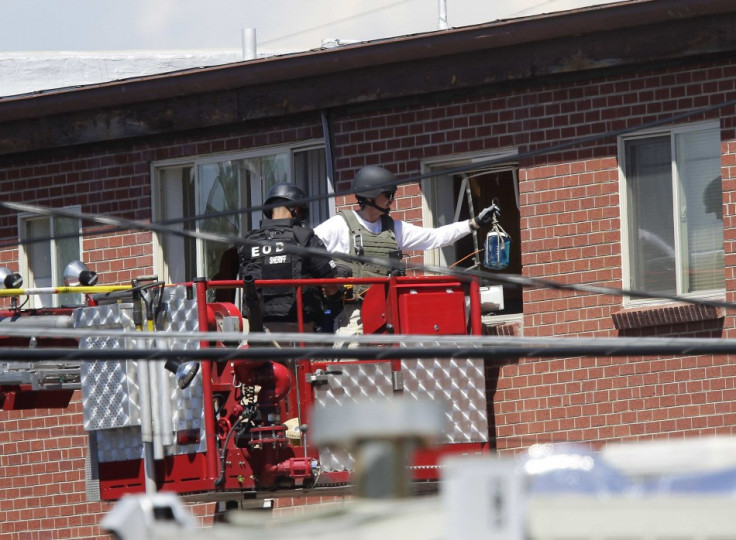 As police cleared the booby-trapped apartment of 24-year-old James Holmes, the main suspect in the murder of 12 people at a Batman movie premiere, more details about the incident emerged.
The amount of explosives at Holmes' house could have destroyed the whole apartment block if detonated, said the police.
They found 30 shells filled with gunpowder and containers with liquid accelerants inside the apartment in the Denver suburb of Aurora.
"Given the amount of explosives that were there, if they detonated ideally, you would have had a very ample explosion with an amusing thermal effect from the incendiary liquids that would have destroyed that apartment complex. It's safe to say that whole building would have burned," Reuters quoted a police source as saying on condition of anonymity.
The explosives were designed and connected in such a way that the first responder entering the house would have triggered them.
The police confirmed that Holmes had apparently been planning his actions for a long time. The suspect had spent a considerable amount of time and money on materials to carry out the shooting.
"We've become aware that the suspect over the last four months received a high volume of deliveries to both his work and home addresses. This begins to explain how he got his hands on all the magazines and ammunition. We also think it begins to explain some of the materials he had in his apartment. What we're seeing here is evident of some calculation and deliberation," said police chief Dan Oates.
The police used a remote-controlled robot to enter the suspect's apartment and detonated the explosives under a controlled environment on Saturday afternoon.
Earlier, it emerged that Holmes had purchased more than 6,000 rounds of ammunition for various weapons legally.
The police also released the identities of all 12 victims, among them a six-year-old girl and two US servicemen.
Holmes was pursuing a doctoral programme in neuroscience at the University of Colorado, Denver, and was about to withdraw from the course.