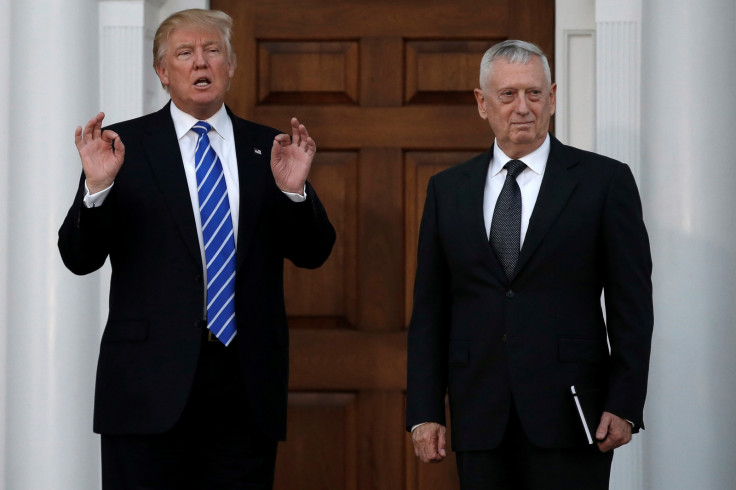 President-elect Donald Trump has chosen retired Marine General James Mattis to be his Secretary of Defense.
The former head of US Central Command was widely considered the favourite for the role, but on Thursday (1 December) Trump's communications director Jason Miller would not confirm the appointment.
In a tweet, he said: "No decision has been made yet with regard to Secretary of Defense." However, AP later confirmed the appointment.
Mattis, 66, retired in 2013 after four decades serving in the Marine Corps.
He featured in every US-Middle Eastern conflict from the first Iraq War in 1990, and in 2001, led 4,000 Marines in the search for Osama bin Laden.
He went on to serve as the head of US Central Command under President Barack Obama, until he reportedly left because of Obama's policy on Iran.
For his position as Secretary of Defense to be formally granted in Trump's cabinet, Mattis will need Congress to pass legislation to override an existing law that prevents defense secretaries from actively serving within the last seven years.
Despite earning himself the nickname Mad Dog, Mattis is widely respected within the military community and is thought to be a sensible pick for the role.
He has already been credited with changing President-elect Trump's view on torture, although Trump has not yet publicly acknowledged the U-turn.
In an interview with the New York Times, Trump said: "General Mattis is a strong, highly dignified man. I met with him at length and I asked him that question [about torture].
"I said, 'What do you think of waterboarding?'
"I was surprised. He said, 'I've never found it to be useful.' He said, 'I've always found, give me a pack of cigarettes and a couple of beers and I do better with that than I do with torture.'
"I'm not saying it changed my mind. Look, we have people that are chopping off heads and drowning people in steel cages and we're not allowed to waterboard, but I'll tell you what, I was impressed by that answer."