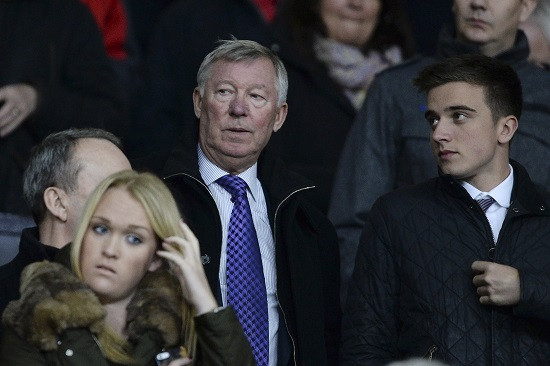 Jamie Carragher has insisted that Manchester United shouldn't blame Sir Alex Ferguson for their current struggles, arguing that he was underestimated in his ability to get the best out of players.
Ferguson's retirement in the 2013 summer was the beginning of a difficult time for the club, and after sacking succeeding manager David Moyes, who broke records for all the wrong reasons, they have now spent over £200m on new talent and are still struggling to assert their position at the top of the Premier League.
Louis Van Gaal has asked fans for patience as he attempts to rebuild the squad and some have pointed the finger at Ferguson, who with a couple of exceptions was often seen as more frugal with his transfer budget than his Premier League counterparts.
But Carragher said that the former United manager did more with the club than supporters and the owners realised.
"The blame game has started since Manchester United's mauling in Milton Keynes and nobody has been spared," he told the Daily Mail.
"Louis van Gaal, only a few weeks into his reign at Old Trafford, has been criticised for picking an inexperienced team, playing a system that is alien to his squad —and signing autographs immediately after that 4-0 defeat.
"David Moyes, sacked in April, had the spotlight on him. He was at fault, so the arguments went, because he wasn't brutal enough when he arrived last summer and failed to get rid of the players who were not up to United standard."
On Ferguson, Carragher explained: "He should have left a better squad, the theory goes. He left United weak because he did not sign better players and, as a result, his legacy is being damaged because United appear to be in freefall. Van Gaal has claimed he will need a year to turn the situation.
"I find it remarkable anyone could genuinely feel Ferguson has anything to do with what is happening now. What we are actually seeing, with each passing week, is how far Ferguson's genius stretched and just how much of an impact he had on the club."
With their limited spending, United were able to stand tall against clubs such as Chelsea and Manchester City who were breaking the bank to constantly land new talent and compete with the Premier League giants.
Now though, United are having to spend just as much money as their rivals, and Carragher believes that this is proof of how good Ferguson was at Old Trafford.
"At the start of this season, I said things would never be the same again for Manchester United and the £237.1million they have spent since Ferguson has gone into retirement is not going to recreate the success his teams enjoyed for over 20 years," he said.
"It was only down to Ferguson that the Glazers never had to spend like this before. One thing that is beyond doubt is that Manchester United — and football in general — are unlikely to see another like him.
"That's why I find it startling that his name was included in the recriminations that followed United's Capital One Cup capitulation. The only mistake Ferguson has made is underestimating just how good he actually was."