Jamie Redknapp has ruled out Liverpool's chance of winning the Premier League title this season after their defeat against West Ham United on Saturday.
The Hammers registered a 3-1 victory over the Merseyside club. It is the Reds' second consecutive league defeat of this season. Brendan Rodgers has seen his side struggle as they have six points after five matches.
The Anfield club allowed last season's star player Luis Suarez join Barcelona in July. Redknapp believes his former club's hope of lifting the first Premier League title ended when they allowed their star player leave earlier this summer.
"I don't put Liverpool in the equation to win the title, I never have to be honest. I never did because as soon as they lost one of the best players in the world and the best player in the Premier League last season it makes it impossible," Redknapp told Sky Sports.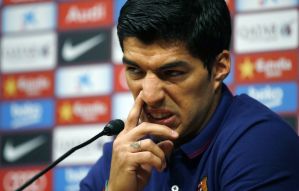 "For them to get into the top four should be the aim for this year. The title? No chance. Not when you haven't got Suarez in your team. He was such a difference and he made everything seem possible last year."
"I still feel there's got to be more leaders in that team and they have to do better. I just think the top four is probably where they're at this moment," he added.
Team changes at Liverpool
The Reds also let Daniel Agger rejoin his former club Brondby, and have added Dejan Lovren, Alberto Moreno and Javi Manquillo to their defence. The former Liverpool and Tottenham Hotspur midfielder believes the Reds lack leaders in the back four.
"When you bring players in then it does take a little bit of time for them to bed in and settle. Defensively, bringing in Lovren is going to be a really good signing, but he's really struggling to find his way in the Premier League playing for Liverpool," the 41-year-old former midfielder said.
"Somebody there has to be taking responsibility to say 'you pick him up'. Even as the goal goes in I didn't see any leaders in there."
"I didn't see anybody saying 'we've got to change that'. That just epitomised the whole game for Liverpool. Last year they were so good and so organised. That's nothing to do with tiredness and nothing to do with the Champions League, it's just to do with people not doing their jobs."
"We talk so much in football about different systems, but sometimes it's much more simple than that. It's about winning your individual battles, it's about marking men from corners, it's about winning second balls and doing the right thing."
"Liverpool, today, hardly won a tackle and that was the difference. Every time the ball bounced a West Ham player was on it and they fully deserved the result today," Redknapp stressed.