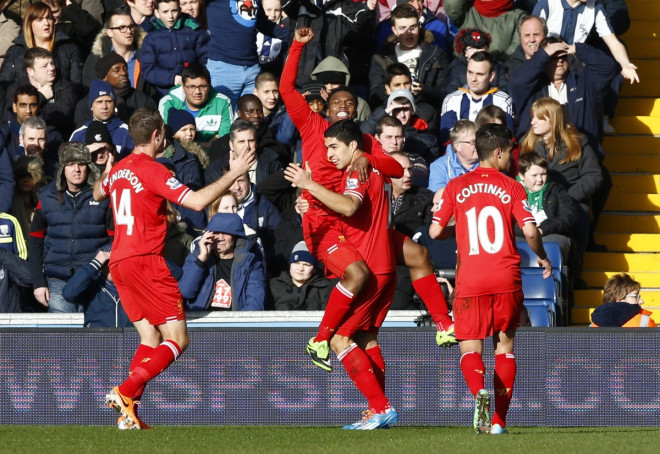 Jan Molby believes Liverpool will be successful in achieving their target of finishing in the top four of the Premier League this season.
The Reds legend insists that Brendan Rodgers' side have the mentality and composure to come good above neighbours Everton in the table to bring Champions League football back at Anfield in the upcoming campaign. Liverpool are now in their fourth season without competing in Europe's top club competition and finished seventh in the league last season.
However, the Merseyside club are thriving in the current campaign and not only do they look likely to finish among the top four but are also in contention to win the league title. They currently sit second in the table with 68 points after 31 matches, just one point behind leaders Chelsea.
"Breaking back into the top four was the target Liverpool set out to achieve at the start of the season. Assuming the Blues [Everton] won every game between now and the end of the campaign, you would still back the Reds to pick up enough points [to finish in top four]," Molby told the Liverpool Echo.
"You will not get anyone at the club saying so but Champions League football looks secured for the next season. In the excitement of the title race, it has been forgotten that Liverpool are now 11 points clear of fifth-placed Everton."
In their previous league fixture, Liverpool endured some nervous final minutes during the 2-1 victory against Sunderland at home last Wednesday. Molby reiterates that the Reds still have the flair and ability to shock their opposition in the remaining games. He insists that the club's Northern Irish manager will maintain his calm demeanour enabling the players to play with the right mindset.
"Liverpool were not quite at their best against Sunderland but the team still played with a lot of energy and moved the ball quite well. There will be more moments in the final seven games when it doesn't always go Liverpool's way. But they have got to keep their heads and Brendan Rodgers will help that because he is always calm," Molby explained.
"From now until the final whistle on May 11, the Reds can only keep on surprising. And despite that nervousness on Wednesday and the pressure that might be growing in the stands, Liverpool can play with freedom," the former midfielder concluded.