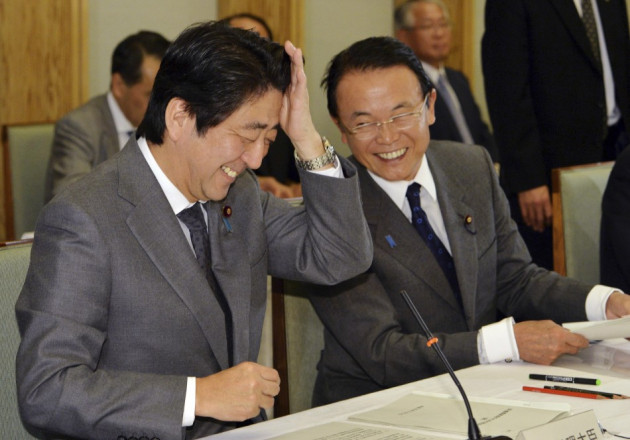 The Japanese government has approved a $182bn economic package aimed at pulling the world's third-largest economy out of persistent deflation and weak growth. However, economists remain sceptical about the impact of the measures.
The package has a headline value of 18.6tr yen ($182bn, £111bn, €134bn), an inflated number given that the bulk of the package includes loans from state lenders and spending by local governments that was already scheduled.
At the heart of the package is 5.5tr yen in spending measures which Prime Minister Shinzo Abe ordered in October, to reinforce the economy ahead of a national sales-tax hike in April, 2014.
The package includes steps to hasten reconstruction from the March 2011 earthquake and tsunami; erect infrastructure for the 2020 Tokyo Olympics; improve competitiveness; and support women, the youth and the aged.
The measures are likely to add 1 percentage point to Japan's gross domestic product, creating some 250,000 jobs in the process, according to the cabinet office.
There is a consensus that the sales tax hike will deduct about 2tr yen from gross domestic product. As such, 5.5tr yen in spending should more than compensate, said Yasutoshi Nishimura, a senior vice minister at the Cabinet Office.
However, Hiroshi Miyazaki, senior economist at Mitsubishi UFJ Morgan Stanley Securities was less hopeful. He said the measures may only contribute around 2tr yen or 0.4 percentage point as a lot of the direct government payouts to families and the aged would end up in savings.
"[The package] includes steps to boost capital expenditure for the future and ensure the economy stays in a positive cycle," Abe told businessmen and economists.
"If companies invest more and wages rise more, then the positive (economic) cycle materialises," Abe added
"Market participants want the government to focus even more energy on economic policy," said Miyazaki.
"Some of these items, like reconstruction from the earthquake, were already scheduled and don't really constitute an economic strategy," Miyazaki told Reuters.
The government action shows Tokyo continues to prefer piecemeal policymaking and temporary measures, which according to economists has hindered long-term growth.
The headline figure announced by the Japanese government, on economic measures, tends to include spending that has already been committed, and usually far exceeds the total amount of new investments.
The government does not have to issue new debt as new spending is covered by tax revenues that have surpassed initial budget projections owing to the economic recovery.