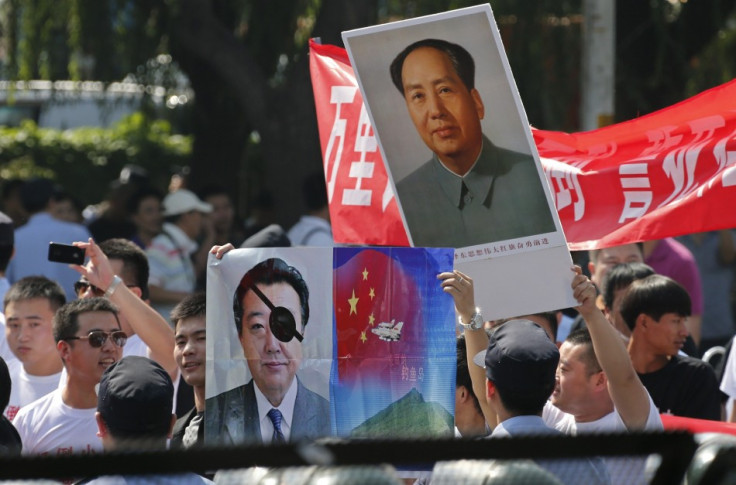 The spiralling anti-Japan protests in China are forcing Japanese companies to shut down temporarily.
Japan-based electronics maker Panasonic's factories came under attack before it suspended operations. A Toyota showroom was reportedly targeted while Bloomberg is quoted as reporting that Canon had ceased operations at three of its facilities.
Analysts have been quoted as saying that if the current anti-Japanese mood continues in China, it could prompt Japan to look beyond China to make investments.
The Japanese embassy in Beijing also witnessed protests as angry mobs hurled eggs and plastic bottles at the building. It is said to be one of the biggest demonstrations against Japan in recent times since the two countries restored diplomatic ties.
The Chinese Communist government hardly allows street protests, leading observers to wonder if they have official sanction.
The protests are likely to grow further and it is feared that they may turn violent on 18 September, a day which the Chinese consider as one of the blackest due to territorial disputes.
The current wave of protests started soon after the Japanese tried to lay their hands on the disputed islands in the East China Sea. The chain of islands in the region known as Diaoyu in China and Senkaku in Japan is claimed by both sides. Taiwan also asserts ownership of a part of the islands which have rich resources.
Japanese Prime Minister Yoshihiko Noda has urged the Chinese government to take necessary steps to protect the people and property.
People's Daily Warning
China's mouthpiece People's Daily had warned of an economic clampdown on Japan if the dispute festers.
"How could be it be that Japan wants another lost decade, and could even be prepared to go back by two decades?" asked the daily, adding that China "has always been extremely cautious about playing the economic card."
The front-page editorial went on to warn: "It is not only a futile and dangerous farce but an open challenge to China's territorial sovereignty and national dignity. We advise the Japanese government not to misjudge the situation. The Chinese people will never allow any country to seize even half inch of Chinese territory."
To make matters worse, Japan's ambassador to China Shinichi Nishiyama has died in Tokyo. The newly appointed 60-year-old died in a hospital after he was found collapsed.
Although officials do not treat his death as suspicious, the precise cause of his death remains unknown. His death could cast a deeper shadow over Sino-Japanese already marred by the protests.