At least 18 people are dead and dozens missing in the Kyushu region of Japan, where a powerful earthquake struck in the early hours of 16 April. A magnitude 7.3 quake struck the Kumamoto prefecture in southern Japan at 1.25am local time (4.25pm GMT 15 April), one day after another tremor killed nine people in the same area.
Japanese broadcaster NHK reported 18 deaths and 1,600 injuries from the latest tremor, while some 69,000 people in Kumamoto have evacuated their homes. Chief Cabinet Secretary Yoshihide Suga said up to 80 people may be trapped in the rubble, and announced that 15,000 extra troops would be deployed to the region to lead rescue efforts.
"We are making every effort to respond," he was quoted as saying by Reuters. Some 200,000 households were without electricity, while roads and tunnels sustained damage. The terminal building at Kumamoto airport was also damaged by the tremors, forcing officials to suspend all flights on 16 April.
A tsunami advisory was issued following the tremor but it was later lifted, while no irregularities were reported at nuclear power plants in the area.
Widespread damage
Thousands of people reportedly spent the night outdoors in parks and rice fields following the quake. "We left my house as we could not stay due to continuous jolts," Hisako Ogata, 61, told the AFP news agency. "It was so scary. Thank God, we are still alive."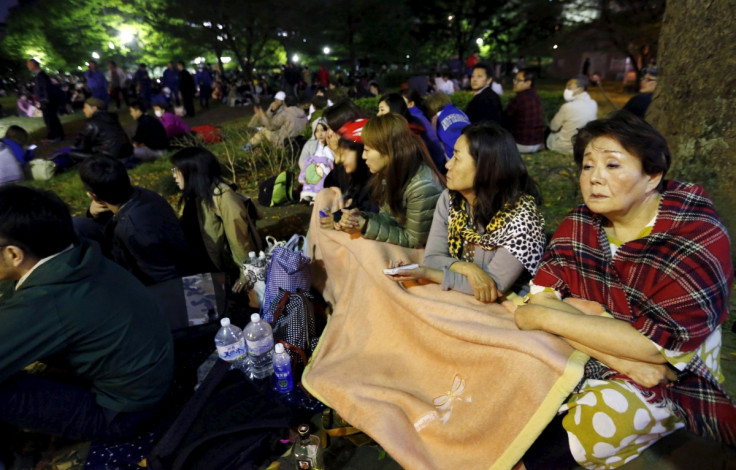 Japan Prime Minister Shinzo Abe said the government was making every effort to render assistance to those affected by the disaster. "It's possible that there may be damage over a wide area," he was quoted as saying by Reuters.
Reports say a minor eruption occurred at Mt Aso, Japan's largest active volcano, at around 8.30am local time, with smoke rising 100m high. Heavy rain has been forecast in Kyushu Island in the coming days, with the Japan Meteorological Agency warning that it could trigger landslides.