As work started on a controversial US military base, Camp Schwab, in Japan's southern Okinawa Island, protesters staged a rally objecting to the heavy US military presence in the region.
Yellow buoys were placed in the water to mark off-limit zones and workers started work on the first phase of plans to build new runways for military planes amidst raging protests by Okinawans.
"We are extremely angry about this work, which tramples on the feelings of Okinawan people. We will continue our protest until they stop construction," said Hiroshi Ashitomi, a protest organiser.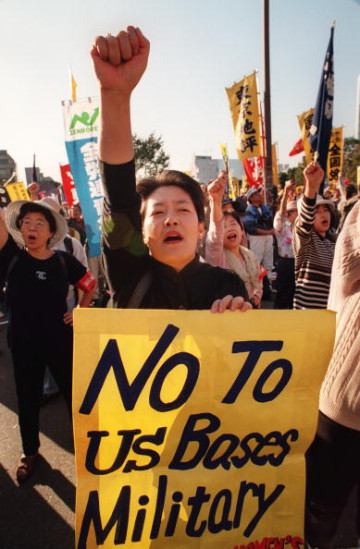 The extension of Camp Schwab in Nago, Okinawa Island, was agreed in 1996 between Tokyo and Washington, however, the plans were never executed due to the rising objections by locals.
Last December, local officials approved the plan in exchange for a Tourism boosting development package from Tokyo, that could significantly boost the local economy.
Re-elected Nago mayor, Susumu Inamine, is "infuriated" at the work that started on Thursday (14 August).
"We strongly protest this outrageous move by the Japanese government and are determined to block any construction of a new base," Inamine said in a statement.
US State Department spokeswoman, Marie Harf, said United States welcomes the start of the work, which will preserve, "US military capabilities vital to the peace and security of the region."
Japan has reportedly paid 2 million pounds (380 million yen) in the past to compensate locals for accidents caused by the US military personnel that include road traffic accidents, robberies and rapes.
Some 47,000 US service personnel are currently being hosted in Japan in lieu of the US-Japan security alliance.