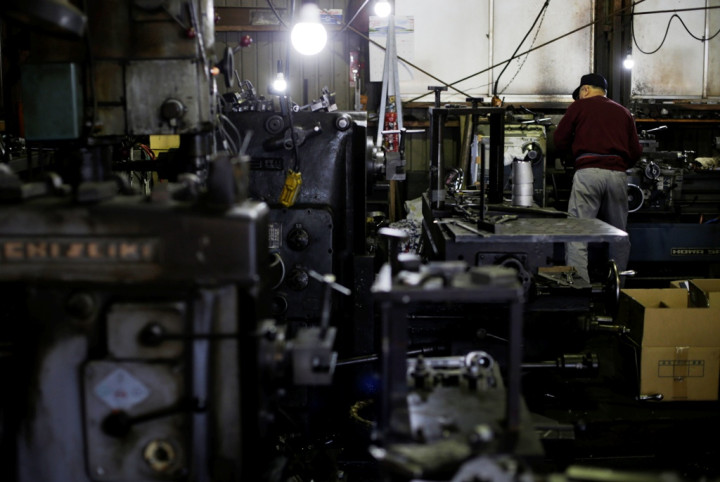 Japan's factory output bounced back in May from a decline following 1 April's national sales tax hike, suggesting the world's third-largest economy will soak up the increase largely unharmed.
Factory output rose 0.5% month-on-month and followed a 2.8% drop in April, government data showed on 30 June. A Reuters poll of economists forecast a 0.9% monthly increase in output
Manufacturers surveyed by the government expect output to fall 0.7% in June but grow 1.5% in July, the data showed.
Market reaction was passive. The benchmark Nikkei 225 share average finished 0.44% higher on 30 June. The index has gained 3.62% for the month as a whole.
The factory output data comes ahead of the release of the Bank of Japan's second-quarter Tankan business sentiment survey, on 1 July.
Standard Chartered said in a note to clients: "We expect the current diffusion index of large manufacturers to have dropped to 14 in Q2 from 17 in Q1 as the April sales-tax hike temporarily stalled private consumption, hurting business sentiment.
"However, large manufacturers' outlook likely rebounded to 18 from 8 previously. This would support our view that the contraction in business activity after the tax hike was short-lived and that the economy will gradually stabilise in H2."
"The Tankan survey of companies' inflation expectations, which was launched in Q1-2014, will also be closely watched. The results are likely to show a moderate pick-up in inflation expectations given the current uptrend in inflation," the British firm added.
"Output is recovering. But it is still in the stage of adjustments given falling shipments and rising inventory," Takeshi Minami, chief economist at Norinchukin Research Institute in Tokyo told Reuters.
Sales Tax Revision
Japanese consumer prices struck a 23-year high in April, in the wake of the 1 April sales tax hike, a positive development in Tokyo's near two-decade-long battle against deflation.
But higher prices resulted in a bigger-than-expected drop in consumer spending and a higher-than-expected slowdown in factory activity that month, raising concerns about the pace of economic recovery of the Japanese economy.
Manufacturers cut production in April, to prevent piling up inventories, after Japan raised the national sales tax rate from 5% to 8%, the first increase in 17 years, to curb its huge public debt and battle falling prices.