The world's third-largest economy logged its fastest pace of growth in more than two years in the first-quarter of 2014, buoyed by robust consumer spending and strong business investment.
Gross domestic product in Japan rose at an annualised rate of 5.9% in the January-March first-quarter, government data showed on 15 May, as consumers and businesses rushed to make purchases before the national sales tax increased to 8% from 5%.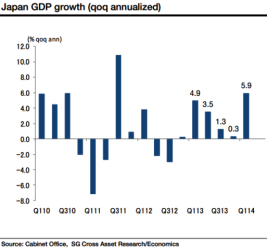 Economists polled by Reuters had forecast an annualised 4.2% growth rate for the first-quarter.
On a quarter-on-quarter basis, the Japanese economy expanded 1.5%, beating expectations and clocking its sixth straight quarter of expansion.
Private consumption, which accounts for some 60% of the economy, increased by 2.1% from the preceding quarter.
Capital spending rose 4.9% on the quarter, beating expectations of a 2.1% growth rate and logging its fastest expansion since the October-December fourth-quarter of 2011.
Companies invested higher profits in factories and equipment.
Q2 Growth Outlook
Societe Generale Cross Asset Research said in a note to clients: "Looking ahead, we anticipate that the strong growth of Japan in Q1 will be partially offset by negative growth in Q2 due to the subsequent decline in domestic demand after the consumption tax hike.
"However, the pay-back in Q2 is somewhat less of a worry as the recovery in capex in Q1 proved to be far stronger than we expected, and in light of prospects for the global economy, solid export growth looks likely."
Bill Adams, senior international economist for PNC Financial Services Group, said in a note: "...Since [first-quarter] growth will likely be given back in the second quarter, the market impact of Japan's strong GDP read will probably be limited.
"While the first-quarter's strong growth will likely give way to contraction in the second-quarter, recent positive sentiment surveys suggest that Japanese growth should continue above the pre-Abenomics trend when the volatility caused by the tax increase passes."
"Japan's imports continued to grow faster than exports in the first-quarter, as they have in each of the preceding two quarters. Abenomics has boosted Japanese import demand more than the weaker yen is boosting Japan's exports.
"In Japan, as in the US and [the] UK, quantitative easing is fueling stronger import demand and pulling the global economy forward," Adams added.