"There's nothing as happy as this day," is how Tomoaki Nakao, mayor of Shimonoseki, described the day a Japanese fleet embarked on a whaling trip to the Antarctic. Tokyo's whaling ships have departed to carry out a decades-long tradition of whale-hunting despite global outrage.
"Last year, regrettably, the ICJ [International Court of Justice] made its ruling and we were unable to take whales," Tomoaki told the fleet's crew at a ceremony just ahead of their departure. The whaling fleet left for the hunt from the city of Shimonoseki in western Japan on 1 December.
Earlier in 2014, the ICJ had ruled that Japan's whale-hunt is anything but scientific. Research is one of the exceptions under which whaling is allowed by international regulations. Environmentalists have been accusing Japan of using this loophole to hunt whales that end up on dinner plates rather than in research laboratories.
In this current whaling season that would last up to March 2016, Japan aims to hunt 333 minke whales — a reduced target by one-third compared to earlier voyages — as part of its "scientific whaling" programme. Japan says the expedition is aimed at studying health and migration patterns of minke whales.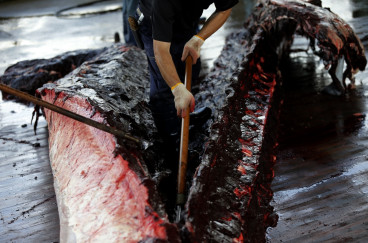 Japan has come under intense global pressure to stop this practice, described as inhumane by rights activists. However, Tokyo defends whaling as part of Japanese culture.
"We do not accept in any way, shape or form the concept of killing whales for so-called 'scientific research'. There is no need to kill whales in the name of research. Non-lethal research techniques are the most effective and efficient method of studying all cetaceans," said Australia's Environment Minister Greg Hunt. The Australian government had brought the case against Japan in the ICJ over whaling.
"The Japanese government should stop research whaling in the Antarctic and should start taking actions toward conservation of the ocean," read a statement released by a coalition of anti-whaling NGOs including Greenpeace Japan. Japan is the only country that continues to practice whaling in international waters.