I know I've been quite harsh in my criticism of Liverpool this year but they were excellent last night. In fact it was one of the best games I've seen them play. They were definitely the better side, with 60% possession and 20 shots on target. Raheem Sterling and Jordan Henderson were both excellent.
Chelsea were forced to defend well and Thibaut Courtois had to make a couple of great saves. It was more like the rousing Liverpool team we saw last night, playing an exciting brand of football and pushing teams back.
But, again, we saw Liverpool's two Achilles heels. For one thing, there wasn't enough penetration: one goal is not a good enough return for 20 shots. And at the other end there is an obvious weakness. Emre Can has certainly got a ricket in his locker, as he showed last night, and Mamadou Sakho does too.
Are Liverpool Champions League contenders? I would still say no at this point. They still need consistency and I've not seen enough from yet. Yes, they've gone on a great unbeaten run since that 3-0 defeat at Old Trafford, but they're not convincing. They're picking up points without playing well, and, bar the game last night, they haven't been playing the best sides.
Look at the games they've played against the other members of the "big five": Chelsea, Arsenal, City and United. As it stands they've got one point from four games against those teams, which shows they can be found out by the better sides. And they've got a tough run of fixtures coming up: their next five games are against West Ham, Everton, Spurs, Southampton and City.
We'll know more about Liverpool when they've come out of that run of games. If they've got 10 points from that run, we'll know the revival is genuine. But I'd certainly say that, at the moment, any talk of a revival is premature.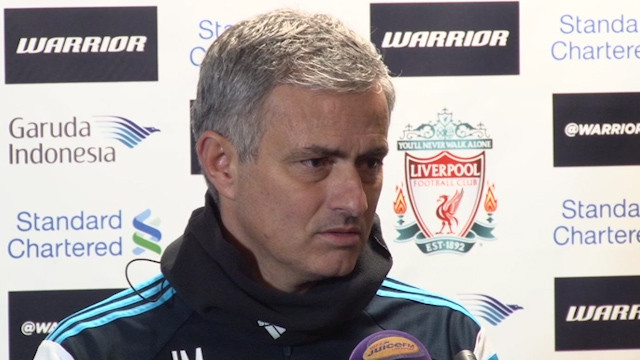 Blues keep rolling on
Chelsea, meanwhile, keep rolling on. They didn't playing well last night, and, as I said, they caught Liverpool on a very good night. But they still avoided defeat. That's one of the hallmarks of this Chelsea team: when they don't play well, they still come away with something.
The fact that Chelsea have only lost two games in all competitions this season shows they are adaptable, and that Jose Mourinho is brilliant at adapting his game plan for different opponents. If Chelsea had adopted the ultra-offensive strategy they used at Swansea last night, they would have lost. But Jose went with two defensive midfielders and he got a draw out of it.
It also helps when you've got a great pool of players to choose from. Mourinho joked about signing Gerrard to poke fun at City, but let's be honest: he wouldn't get in Chelsea's team. He is one of the greatest English players of the past 20 years, but he's not Chelsea standard, not any more. If Andre Schurrle, a World Cup winner, isn't good enough to get into the Chelsea team, what chance Gerrard?
Jason Cundy was a hero at Stamford Bridge as a no-nonsense centre-half during the early 1990s. Today he presents the popular Sports Bar radio show on TalkSPORT, and you can find out more about his work with the station here.
He also commentates on Chelsea games for Chelsea TV, working with fellow IBT columnist David Chidgey,and is a prolific member of the Twitterverse.