The weekend's game between Manchester United and Liverpool only served to prove what we already know: Liverpool are a mess. Brendan Rodgers has got a big job on his hands and a lot of people are calling for his head.
You've got to feel sorry for the guy. He's a victim of his own over-achievement last year. Liverpool fans should recognise that and look at the bare facts.
Liverpool simply don't have a right to be in the Champions League every year. They're not dining off the top table any more. When was the last time they signed a world-class foreign player? Luis Suarez and Fernando Torres, the two best foreigners Liverpool have bought, weren't world class when they arrived at Anfield – Liverpool took them to that level.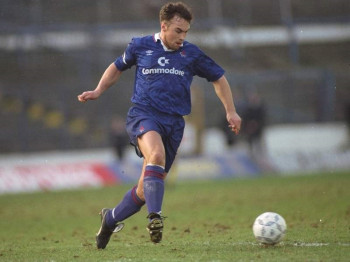 In fact, you can argue that Liverpool have never signed a top-drawer player from overseas, who is at the peak of his career and commands absolutely top dollar.
Before the Premier League era, they were able to cannibalise the British Isles and buy the best domestic players but that isn't enough now, the stakes have been raised.
And they simply can't attract the likes of Sanchez, Di Maria, Hazard... players who are going to help them compete with Europe's best.
You could go even further, and ask when Liverpool last won a bidding war with other top players. I'd say the last time was probably Stan Collymore, back in 1995.
When they've signed good players recently, it's usually because no one else is in for those lads. Liverpool can't attract the top players when other clubs are after them; they can offer an amazing history but they can't offer the location, the glamour or the wages the real stars are after.
English football's big four is now clear: Chelsea, Manchester City, Manchester United and Arsenal. Liverpool have to have an amazing year to get past them, and play out of their skin, like they did last season.
It seems the policy recently has been to buy young players and hope they develop into superstars, thereby undercutting the financial clout of the big boys. That's fine, but when those signings take time to settle, as they have this season, you can't hold Rodgers accountable – the buck stops with the boardroom.
Rodgers certainly has been getting a lot wrong: he picked the wrong game to drop Mignolet and against United, he left two strikers on the bench, and Liverpool went and missed a load of chances.
He also played Gerrard in a position where he can't affect the game anymore. Lovren is clearly struggling and the defensive tactics are all wrong. In those big matches where Liverpool have to sit in and get a draw, Rodgers doesn't seem to know how to do it.
But personally I would give the manager more time. Last season, Spurs were in a very similar situation to Liverpool now: they'd sold their best player and spread the proceeds across a lot of less high-profile signings.
It took time for those players to bed in, but Spurs are now showing the green shoots of recovery. Erikssen, for example, is starting to look a real player for them. So you need that time. Liverpool have been playing two games a week for most of the season, but they've got a run without any midweek games now, and that can only help Rodgers in his attempts to reshape his squad.
I can't see Liverpool reclaiming their old dominance anytime soon but, with some pragmatism and long-term planning, at least they can maximise their potential and get out of the mess they're in.
Jason was a hero at Stamford Bridge as a no-nonsense centre-half during the early 1990s. Today he presents the popular Sports Bar radio show on TalkSPORT, and you can find out more about his work with the station here.
He also commentates on Chelsea games for Chelsea TV, working with fellow IBT columnist David Chidgey, and is a prolific member of the Twitterverse.