What an age we live in. Lionel Messi clicks a button on Instagram and suddenly the world is convinced he's about to agree the biggest transfer in the history of football.
Yes Messi has followed Chelsea on social media, and he was left out of the Barcelona team at the weekend. But I just don't see him leaving Barcelona. He's been there since his early teens, and he won't leave the club for another five or six years, until he reaches the age Steven Gerrard is now (more on Stevie G's shocking announcement later, by the way).
As for Chelsea, well, signing Messi would be too much of a risk under the new laws. If you go back 10 years, when Roman Abramovich arrived, it could have happened. But not now. If they wanted to sign Messi, Chelsea would have to get rid of Eden Hazard, who's such a wonderful player. As a Chelsea fan, I'd hate to see that.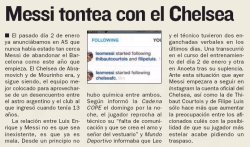 Chelsea have been the best team in the country for most of the season, and it's taken years to build this side. Why would Jose Mourinho throw that away?
The squad is already finely tuned, with great balance throughout. Indeed I can't see them doing much business in January, although I wouldn't mind another striker. Someone not cup-tied, still in his prime. Wilfried Bony would tick a lot of boxes, but he looks like he's on his way to Manchester City.
Another player who would be great for the club is Raphael Varane. There's talk of him going to United for £20m and, at that price, I reckon Louis van Gaal would be ready to take on Mourinho for him.
But think of it from the player's point of view: he knows Jose, knows how he operates, and Chelsea are a better team than United right now. Yes United are one of the biggest clubs in the world but, at the moment, Chelsea can 100% guarantee Champions League football, whereas Van Gaal's team aren't quite there yet. You've also got to think PSG and Manchester City will be in the mix, so it could become a real battle.
Desperation
United are still an ongoing project, far too top-heavy. It'll take them at least another year to finish off the rebuilding job at Old Trafford. They'll get third place this year, but they still urgently need reinforcements in defence. Will they address that problem in January?
Well the problem is that, in January, the quality isn't always available; you invariably have to find players other clubs don't want, as United did last year with Juan Mata. Jose knew United were desperate, so he forced them to pay way over the odds for a peripheral figure, who will represent a big financial loss for United when he leaves Old Trafford.
Brendan Rodgers is in the same position this time round. Everyone in football knows Rodgers is desperate, so they've got a gun to his head, and will make sure he pays far too much for his targets. Still, I think they need to do some business. A goalkeeper is essential; Simon Mignolet was at fault for the goal against Wimbledon this week, and he keeps making bad decisions. Brad Jones simply isn't good enough to play for Liverpool. Why they let Pepe Reina go I'll never know.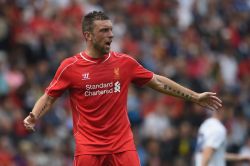 I also think they need a striker. Rickie Lambert is badly out of his depth at Anfield – he was bought to be Liverpool's answer to Didier Drogba, a big, experienced player who could come off the bench, hold the ball up and offer a different option, but it simply hasn't worked out for him. His confidence his shot.
They could also do with a centre-half too, given how badly Lovren is performing at the moment. It could be a busy, and expensive, window for Rodgers and his recruitment team.
Gerrard shocker
Of course, one player has already announced his departure from Anfield this year, and, for me, the imminent departure of Steven Gerrard is one of the biggest rickets Liverpool Football Club have made in a long time. In fact it stinks. There's something not right there at all.
I have said for a long time that Gerrard's legs have gone, but there is still a role for him in the team, playing further forward, and he still has a vital role at the club; when foreign mercenaries are flooding in, you need someone who knows what it means on the Kop.
If you bring in players like Balotelli, with no affinity to Liverpool, you need local lads to balance the dressing room. Like Jamie Carragher before him, Gerrard offers far more than his performances on the pitch. Yet, like Carragher, he is heading out the door.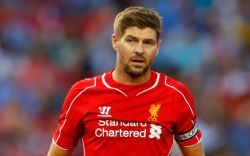 Personally I think Gerrard has been forced to make this decision. When he quit international football last summer, he said he was quitting England to play in the Champions League for another two years. He had no intention of quitting. So why the sudden changes? You see Glen Johnson not being offered a contract, other big earners not being offered a contract, things just don't add up.
Chelsea mustn't repeat Liverpool's Gerrard clanger when John Terry's contract expires. You need to keep players like that at the football club in some role, so they can be used further down the line. I'd have offered him a three-year contract, past his playing days. Perhaps, like Ryan Giggs, they could have eased him on to the coaching staff.
But instead, Rodgers and the Liverpool owners are allowing one of the club's greatest-ever players, one of their own, to leave almost at will. The Anfield fans should be very concerned.
Jason Cundy was a hero at Stamford Bridge as a no-nonsense centre-half during the early 1990s. Today he presents the popular Sports Bar radio show on TalkSPORT, and you can find out more about his work with the station here.
He also commentates on Chelsea games for Chelsea TV, working with fellow IBT columnist David Chidgey, and is a prolific member of the Twitterverse.