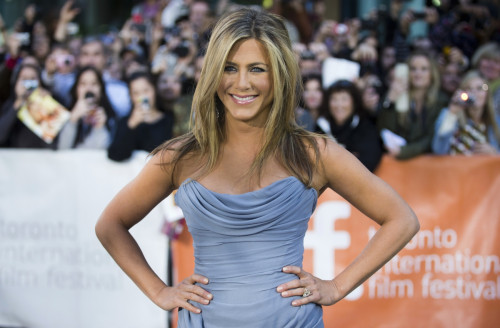 A leaked script for comedy sequel Horrible Bosses 2 has revealed that Jennifer Aniston will perform a lesbian sex scene in the film.
Her character Julia – a nymphomaniac dentist who harasses Charlie Day's character Dale – will, in the sequel, seduce two men and a woman in scenes sure to please her male fans.
Spoilers for the film are below.
The sequel starts with Julia meeting Jason Bateman's character Nick at a sex addiction meeting, and asks him what his trigger is, to which he replies: "Ladies, bosoms and their back sides. Tight sweaters and undergarments."
Later in the scene Julia forces herself on Nick, eventually stepping out in a skimpy air hostess uniform before the two reportedly sleep with each other.
Aniston's character then spends the remainder of the film attempting to seduce Charlie Day's Dale, eventually succeeding after a failed attempt. Dale, happily married, worries that his wife will leave him if she finds out, but discovers Julia has seduced her as well.
The film, shot late last year, is due for release on 28 November. It stars Jason Sudeikis, Kevin Spacey, Christoph Waltz and Chris Pine.
Horrible Bosses was a big success back in 2011, taking $210 million (£125m) worldwide despite mixed reviews.