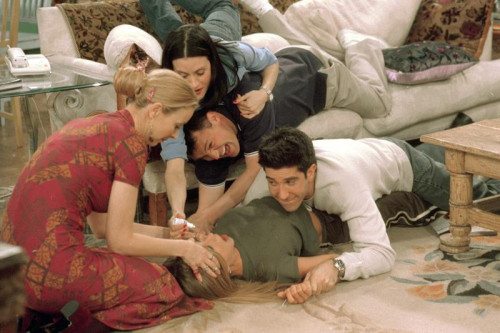 A 2014 Friends reunion is reportedly the latest hoax doing the rounds in social media.
Reports saying the cast and crew of the hit sitcom are coming together for a reunion episode to mark the 20th anniversary of 'Friends' debut are apparently false.
According to a report in KpopStarz, the rumours gained momentum after Jennifer Aniston took a Mexican holiday with her Friends co-star Courtney Cox.
The six cast members of the show have rarely been seen together after Friends ended in 2004.
A source told OK! magazine: "Since the show ended in 2004 it's been rare for all six of them to appear in public together. But with next year's 20th anniversary (of the show's launch) it will be unavoidable for them to do something together. It's no secret the whole project will be pinned on Jennifer, who's incredibly busy with her movie career."
Aniston clearly has never been excited about the idea. The actress, who has moved on to bigger things now (her last film We're The Millers was a worldwide hit), is not a big fan of her old TV show.
When Parade magazine asked her whether she watched reruns of Friends, she said "Yes, I'll stop and watch, though not the whole thing. It's fun for a second-you're like, what's this one?"
Earlier, her Friends co-creator Marta Kauffman had rubbished all rumours indicating a reunion episode.
"I'm going to clear this up—it's not happening!" Kauffman told E! Online in April 2013, referring to constant rumours suggesting a Friends comeback.
Meanwhile, fans of the series are all for Jennifer Aniston, Courteney Cox, Lisa Kudrow, Matthew Perry, Matt Le Blanc and David Schwimmer reuniting for one more time, reports Metro.
According to a new fan-made poster (below), the Friends reunion episode will be titled The One After The 10 Year Break and will release in 2014.