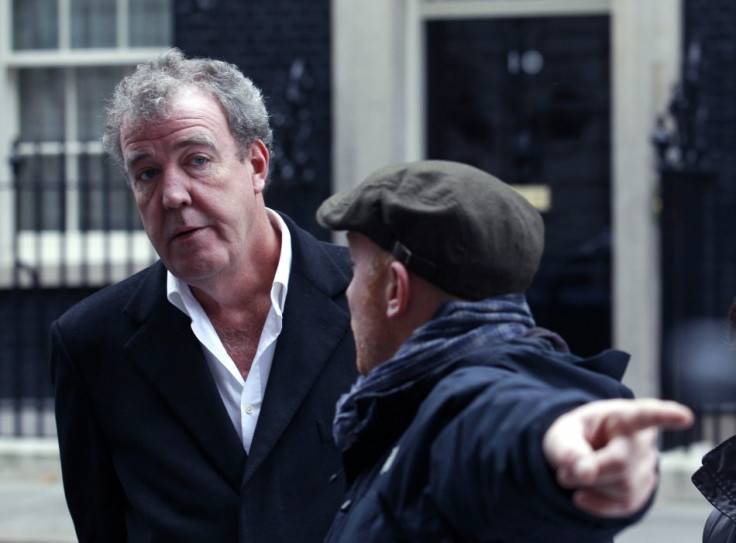 A union is planning to picket the Top Gear studios and display pictures of murdered South American trade unionists in protest against the show's presenter Jeremy Clarkson.
GMB is hoping to put enough pressure on Clarkson that he'll help fund the educations of some of the children of the murdered trade unionists.
Some members will pitch up outside the studios at Dunsfold Aerodrome in Surrey.
Clarkson made a joke on BBC's The One Show, saying striking public sector workers should be "executed in front of their families".
The backlash, including calls for his sacking and a possible legal threat, led to apologies from Clarkson and the BBC.
There were 24,000 complaints to the BBC about the joke.
BBC Top Gear's Jeremy Clarkson: His Most Infamous Gaffes
A GMB spokesman said the union is picketing Clarkson "so good can come of what he said".
They're hoping he'll make a donation "in solidarity" and "to make amends", he added.
"Jeremy Clarkson's vile and offensive comments about executing trade unionists in front of their families are insensitive in the extreme and completely unacceptable," said Bert Schouwenburg, GMB International Officer.
"GMB works with trade unions representing employees on banana and pineapple plantations in Latin America where activists have met exactly the fate that Mr Clarkson describes.
Clarkson has told The Times that he had a meeting with producers of The One Show before going on air, in which he informed them of the joke.
Prime Minister David Cameron said Clarkson's comments were"silly" and Labour leader Ed Miliband branded them "disgusting".
The TV presenter is well known for causing offence, including lorry drivers, who he jokingly implied murder prostitutes as part of their daily routine.