Jeremy Corbyn defends hiring 'respected' former Sinn Fein boss amid backlash
Source close to Labour leader told IBTimes UK that Jayne Fisher is 'held in high regard'.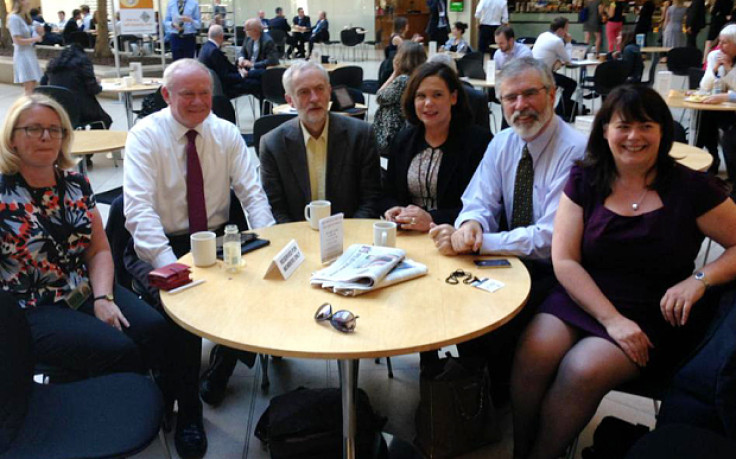 Jeremy Corbyn's office has been forced to defend the appointment of a former Sinn Fein staffer to the left-winger's leadership team.
A source close to the Labour leader told IBTimes UK that Jayne Fisher, who previously led Sinn Fein's London office, was "held in high regard and respected" by Labour MPs who have an interest in Northern Ireland.
"She has a good relationship with several Labour MPs who have been critical of Jeremy's leadership including Conor McGinn and Vernon Coaker," the source added.
But Fisher's planned appointment as head of "stakeholder engagement" for Corbyn in January 2017 has proved controversial.
"By appointing ex-Sinn Fein staffer Jayne Fisher to the leader's office, Labour has shot itself in the kneecap," former Labour MP Tom Harris quipped.
An unnamed Labour backbencher told the Evening Standard: "It is another stupid move that is going to cause the most ridiculous amount of negative headlines for no gain."
A source close to Corbyn said Fisher first joined Labour at 18, took part in a Friends of the Good Friday Agreements initiative and ended up working for Sinn Fein as the republican party wanted a presence in Westminster.
A spokesman for Corbyn said: "We don't comment on staffing matters."
Corbyn is a long-time ally of Sinn Fein President Gerry Adams, having most recently being pictured together in Parliament as part of his 2015 leadership campaign.
The Labour leader also courted controversy in 1984 when he invited Adams to Parliament just weeks after the IRA bombed the Conservative Party conference in Brighton. The terror attack left five people dead and more than 30 others injured. The IRA had hoped to assassinate Margaret Thatcher.
Shadow Chancellor John McDonnell apologised "from the bottom of my heart" in 2015 for suggesting that the IRA should be "honoured" for taking part in their "armed struggle" against the UK.
Sinn Fein currently has four MPs but they do not take their seats in the House of Commons because they do not see Parliament as legitimate.
© Copyright IBTimes 2023. All rights reserved.