"Hope", "dignity" and because "he's not Theresa May" will make Jeremy Corbyn Britain's new prime minister after the general election, according to some of his die-hard fans in Islington, north London, on Wednesday evening (7 June).
The left-wing leader was back on his home turf at the Union Chapel, a gothic-style church a stone's throw from his beloved Arsenal Football Club, to end the final full day of campaigning with a rock 'n' roll political rally.
Corbyn, a 68-year-old teetotaller with a middle class background to boot, drew hundreds of mostly young and excited supporters to the venue, with even more Labour activists braving the summer rain and blocking the streets to catch a glimpse of the leader of the opposition.
Shadow Foreign Secretary Emily Thornberry, the MP candidate for Islington South who has been taking the fight to the Tories on TV, provided the warm-up act.
"So then Theresa, how's your 'strong and stable' working out for you?" she quipped, as the Corbynistas cheered her on.
Then came the main event, with the attendees almost beside themselves. Before Corbyn could utter a "for the many, not the few", the crowd – good natured and cheerful throughout the night – roared continuously.
Later, as the Labour leader promised that he would not be scared to "phone Donald Trump and tell him that he is wrong", the foot-stomping began.
"Labour's campaign has already changed the face of British politics. As we prepare for government, we have already changed the debate and given people hope," Corbyn declared.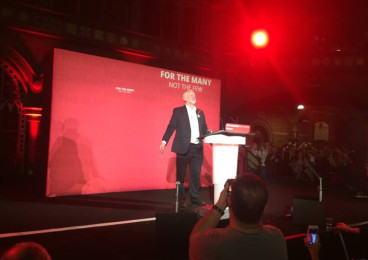 "Hope that it doesn't have to be like this; that inequality can be tackled; that austerity can be ended; that you can stand up to the elites and the cynics.
"This is the new centre ground. The place where most people actually are.
"The policies the majority actually want, not what the establishment and its media mouthpieces insist they should want.
"This is the new mainstream, and we have staked it out and made it our own – together."
The left-winger's speech and style stood in stark contrast to May, the Conservative machine politician who has ran an uninspiring and mostly negative campaign.
"Regardless of whether Jeremy wins tomorrow, he will have shown a whole generation that politics can be actually be about being kind," one Corbyn supporter put it.
But the Labour leader, a professional protester (anti-nuclear, anti-counter-terror laws and anti-war), has lacked credibility. That is where Corbyn's message of "hope" in 2017 departs from Barack Obama's message of "hope" in 2008.
They will keep chanting "Oh, Jeremy Corbyn" after the election, but the opinion polls – wrong on Brexit and Donald Trump – suggest it will not be on the steps of Downing Street.