Labour leader Jeremy Corbyn looked comfortable at the dispatch during Prime Minister's Questions (PMQs) as he grilled Theresa May over the government's Brexit plans this afternoon (12 October).
The left-winger accused May's administration of failing to provide answers to key questions, while relying on "gimmicks and scapegoats" to get by.
Corbyn first attacked the prime minister over now aborted plans to make companies list the number of foreign workers they employ.
The proposal was dropped after a backlash from the British business communities and commendation from across the political divide.
"First, the Home Secretary briefed that companies would be named and shamed, the Education Secretary clarified that data would only be kept by government and yesterday Number 10 said it was just for consultation... This government has no answers," Corbyn said.
May claimed the government never intended to "name and shame" foreign workers. "The policy that he just described was never the policy the Home Secretary announced," the Conservative premier said.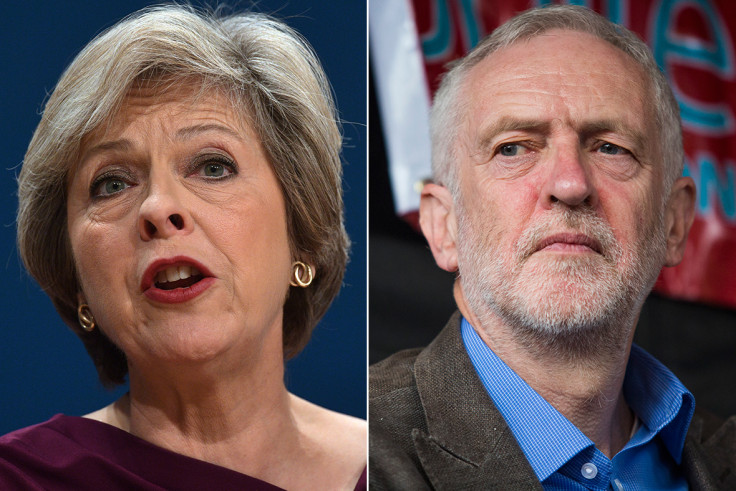 "There was no naming and shaming, no published list of foreign workers, no published data. What we are going to consult on is whether we should bring ourselves in line with countries like the United States, which collect data in order to be sure that they are getting the right skills training for workers in their economy."
Corbyn later pressed May on her government's Brexit negotiations. The Prime Minister has ruled out giving a "running commentary" on the talks, while promising to trigger Article 50 – the official mechanism to split from the EU – by March 2017.
"Can the prime minister now confirm that access to the single-market is a red line for the government or is it not?" the Labour leader said.
The question created some confusion since the UK is expected to get "access" to the EU's Single-Market whatever its deal with Brussels. The debate has been around what levels of access the government will be able to negotiate.
A source close to Corbyn later told IBTimes UK that the Labour leader was referring to "tariff-free access", while opposing EU state aid rules.
May said she was optimistic about new trade deals, suggesting the UK could leave the EU's customs union so it can broker its own agreements with non-EU nations, and stressed the government would seek the "maximum possible access to the European market".
"What we are going to do is deliver on the vote of the British people to leave the EU," the Prime Minister said
"What we are going to do is be ambitious in our negotiations, to negotiate the best deal for the British people and that will include the maximum possible access to the European market for firms to trade with and operate in the EU."
Labour tabled 170 Brexit-related questions for David Davis last night, with an Opposition Day motion being debated in the Commons this afternoon.