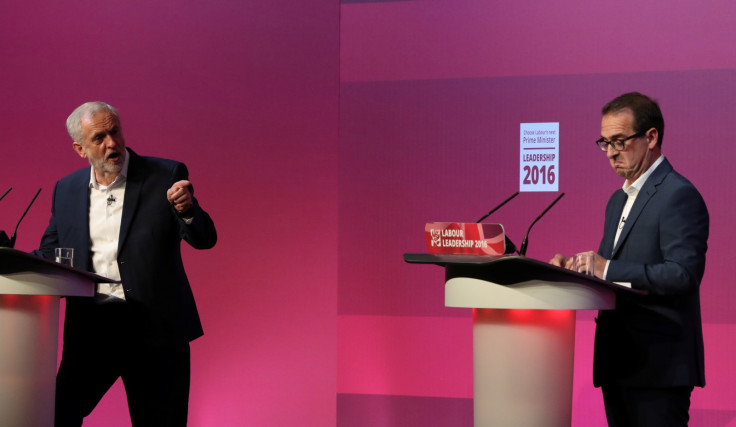 Jeremy Corbyn said he would unite all parts of the Labour Party should he be re-elected as leader in a heated televised debate with contender Owen Smith.
In front of a BBC Question Time audience in Oldham, the pair clashed over anti-Semitism, Europe and the fractured nature of the party.
After the first questioner said that the leadership race was splitting the party and called on both of them to stand down, Corbyn insisted that despite the resignations of shadow cabinet members, MPs would still get behind him.
"When the election is over and if I am elected leader of the party, I hope the MPs will come together. We will once again have a shadow cabinet that is balanced and is extended to all wings of the party and we will get together to take on the Tories and what they are doing to health, to education," he said,
But Smith poured doubt on Corbyn's "optimism" at being able to unite the party, saying that Labour was going backwards and was at its "lowest ebb in the polls since 1982".
Smith said he could turn Labour into a "credible opposition" that could oppose the Conservatives. However he was was mocked by parts of the audience when he said he was "incredibly confident" he could win the leadership election, whose result will be announced on 24 September.
There were clashes over the EU with Smith criticising Corbyn of not mentioning Brexit in the last two Prime Ministers' Questions.
When Corbyn was accused by an audience member of not doing enough for the Remain cause, he insisted he had campaigned hard, saying: "We put the case to remain and reform. We did not win the referendum and we have to work with the result".
Smith accused Corbyn of not doing enough to end anti-Semitism within the party, saying that "Some of the people around Jeremy are encouraging it. There is absolutely no doubt", which was refuted by Corbyn, who replied "I have spent my life opposing racism in any form, as have you".
The debate comes amid a row about Labour members being barred from voting in the leadership election.
Party statistics showed that 3,107 of the 650,000 people who are Labour members or signed up to vote as registered supporters or trade union affiliates have been ruled ineligible on grounds of breaches of party rules, the Guardian reported.