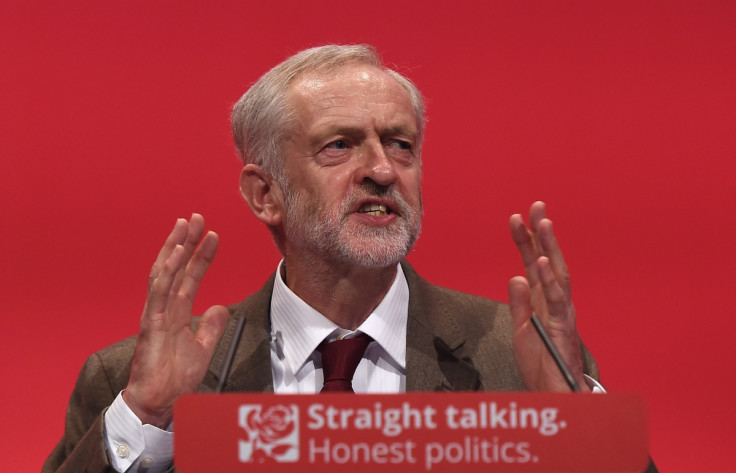 The Trident nuclear deterrent, a call for a kinder politics – these are the two top lines that have dominated media coverage of Labour leader Jeremy Corbyn's debut speech to his party's conference. But what has slipped under the radar? Here are some important parts of Corbyn's speech you might have missed.
On Saudi Arabia
[For] my first message to David Cameron, I say to him now a little message from our conference, I hope he's listening – you never know. Intervene now personally with the Saudi Arabian regime to stop the beheading and crucifixion of Ali Mohammed al-Nimr, who is threatened with the death penalty, for taking part in a demonstration at the age of 17.

And while you're about it, terminate that bid made by our Ministry of Justice's to provide services for Saudi Arabia – which would be required to carry out the sentence that would be put down on Mohammed Ali al-Nimr.
Clive Stafford Smith, who heads the human rights campaign group Reprieve, wrote for IBTimes UK about the case of Ali Mohammed al-Nimr, who is just 19 years old and facing execution by the Saudi authorities.
"Ali was just 17 when he was arrested on 14 February 2012," Smith wrote. "He was accused, first, of participation in an illegal demonstration, and secondly, of an ill-defined firearms offence. He does not dispute that he protested the persecution of his uncle, Shia Sheikh Nimr Baqr al-Nimr, who has also been sentenced to death for daring to demand democratic reforms.
"No evidence has been produced on the firearms allegation, which he and his family strongly deny. He was initially held at a juvenile offender facility, but even then it seems he was tortured and forced to sign a confession."
The UK Ministry of Justice bid for work in the appalling Saudi justice system has been placed under judicial review by the minister Michael Gove, as revealed by IBTimes UK, over concerns that it breaches government rules on protecting human rights.
On education
Every school accountable to local government, not bringing back selection.
This implies some reversal of the academies reform to the education system, instigated by Tony Blair and continued with vehemence by David Cameron. Academies have been liberated from local authority control. They manage their own budgets and set their own curriculums. It was a political effort to devolve decision making down from state officials to those who actually run the schools day to day, and are best placed to understand the needs of their institutions, their pupils and the communities they serve.
Lucy Powell, Corbyn's shadow education secretary, suggested this was not a U-turn by Labour back to the old system of local authority control over schools. From a report in the education publication TES: "[Corbyn's] words follow on from the arguments he made in the Labour leadership race, that academies and free schools should be brought back under local authority control. But when asked by BBC Radio 4's Today programme whether her party would be returning control over all schools to the local authority, Ms Powell said they would not. 'No, what I've said is that by 2020 nearly every secondary school – and most primary schools – will be a free school or an academy,' she said. 'I think the idea that the secretary of state herself can manage and oversee and support all those schools directly is wrong-headed. We should have local oversight of those schools. It's not the same as how we used to have local government control. We will work through the exact detail of that.'"
On digital campaigning
Our new Deputy Leader Tom Watson is well up for that challenge. He's leading the charge and leading the change of the much greater use of digital media as a key resource.

That is the way of communication, it is not just through broadsheet newspapers or tabloids, it's social media that really is the point of communication of the future. We have got to get that.
Corbyn had plenty to say about the media in his speech. He made a number of jokes and snarky comments about the media coverage of his leadership, some of it hyperbolic, some of it tongue-in-cheek, some of it perfectly justifiable. Corbyn is making few friends in the traditional media. But his comments suggest he doesn't believe he needs friends in the media anyway – he can go direct on sites like Twitter and Facebook. Whether or not this is an effective communications strategy is yet to be seen. But that Twitter was calling the 2015 general election as a win for Ed Miliband suggests he may be overconfident in social media.
On online abuse
I want a kinder politics, a more caring society. Don't let them reduce you to believing in anything less. So I say to all activists, whether Labour or not, cut out the personal attacks. The cyberbullying. And especially the misogynistic abuse online. And let's get on with bringing values back into politics.
And on the subject of social media, some of Corbyn's spicier supporters are horrible little people, a savage mob of keyboard bandits who maraud around social media insulting, abusing and threatening those they disagree with. Whether these people will listen to Corbyn's appeal for a kinder, caring politics is unclear...
On mental health
End the stigma, end the discrimination, treat people with mental health conditions as you would wish to be treated yourself. That's our pledge.
In his first PMQs, Corbyn chose questions solicited from the public on mental health. He clearly has a genuine desire to improve the quality of mental health treatment in Britain, as well as attitudes to those who suffer – a desire shared across the House of Commons, it seems, as Cameron warmly welcomed Corbyn's focus on the issue – and he beat this drum again during his conference speech.