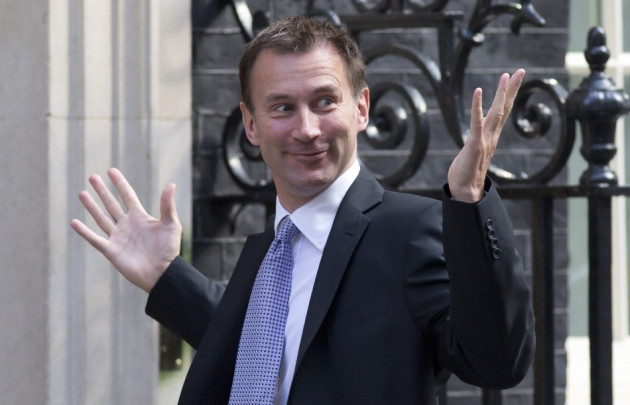 Health secretary Jeremy Hunt sparked controversy with his call to reduce the abortion limit to 12 weeks, yet a new study has found men tend to base their opinion about abortions on circumstance rather than morals.
Hunt told the Times that women should not be allowed to terminate a pregnancy after three months. The current limit is 24 weeks.
He said: "Everyone looks at the evidence and comes to a view about when they think that moment is [when life starts] and my view is that 12 weeks is the right point for it."
Shadow home secretary Yvette Cooper said Hunt's views were "chilling". She said: "Jeremy Hunt's statements on abortion are deeply worrying and show the health secretary has given no serious consideration to women's health."
Researchers at the University of Indianapolis Department of Social Science studied unmarried men living with female partners. Most men said their views on a pregnancy would depend more on personal circumstances than a religious or political perspective.
Study leader Amanda Miller found that although some men said they were pro-life or believed the decision should be made by the woman, most said their opinion on whether to terminate would be based on factors such as finance, relationship quality and their own maturity levels.
The study categorised the men as either working class or middle class, based on their education. Miller found middle class men, who were in a more financially stable situation, were more likely to want to keep the child.
Miller said: "A number of the working-class men were living with women that they were certain were not 'the one'. On the whole, the middle-class men felt more prepared for parenthood because they felt far more stable in their relationships. They were more likely to be engaged and have a wedding date set, for example.
"Having already achieved other markers of readiness through their educational, career and financial successes, adding the other elements of a child and, in turn, a wife to the mix may seem less daunting."
Down's syndrome
She added that while men cannot legally control the outcome of a pregnancy, they can be more active in ensuring their partner does not fall pregnant until the time is right.
Oxford-educated Hunt, who has two children with his wife Lucia, was heavily criticised for his comments, as limiting the abortion time to 12 weeks would effectively prevent screening for diseases such as Down's syndrome, which are detected after three months.
Other critics said it would make women rush into the decision to terminate a pregnancy, which they may later regret.
Conservative MP Dr Sarah Woollaston shared her views on Twitter. She said she "profoundly" disagreed with Hunt, adding that lowering the limit would restrict safe abortion access for the "most vulnerable who present late".
David Cameron said that while he did not agree with Hunt's position on the abortion limit, he is entitled to his own opinion. "People need to know the government has got no plans to bring forward any legislation in this area and any vote that does happen will be a free vote.
"I have voted for a modest reduction from the current limit of 24 weeks because I think there are some medical arguments for that."