Leveson Inquiry: Cameron Knew Jeremy Hunt Always Backed the BSkyB Bid
Culture secretary warned prime minister before appointment that "media sector would suffer for years" if BSKyB bid was blocked.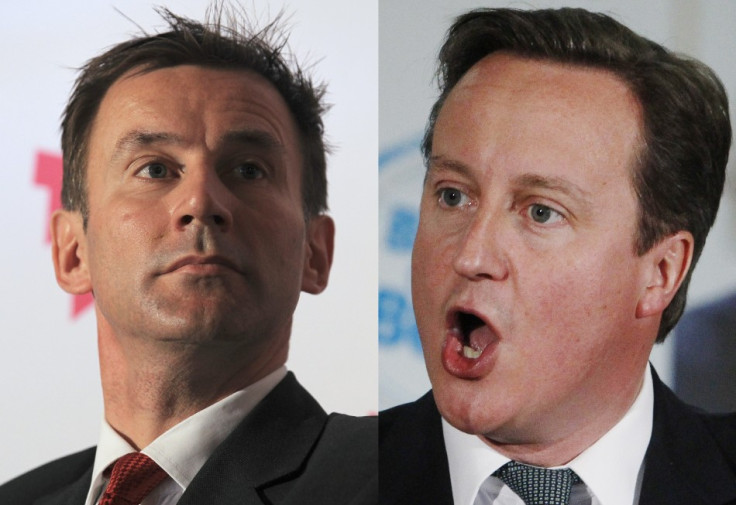 Culture secretary Jeremy Hunt told the prime minister that he supported News Corporation's plan to buy out BSkyB but David Cameron before he was given reponsibility to arbitrate the takeover.
In a memo written to his former special advisor Adam Smith, and later sent to the prime minister, Hunt warned that blocking the bid would cause the "media sector to suffer for years".
Cameron's knowledge of Hunt's comments will raise questions as to why he chose him as an impartial referee to oversee the bid, after business secretary Vince Cable was removed from the position after being accused of an anti-Murdoch bias.
The memo was revealed while Smith gave evidence to the Leveson Inquiry of press ethics. Smith stepped down after emails sent between him and News Corp's public affairs director Frederic Michel were made public during by James Murdoch at the inquiry.
The emails appeared to show Smith providing inside information from Hunt's office with regard to the bid over 2010/11.
Counsel to the inquiry, Robert Jay QC, read the email from Hunt to Smith and Cameron regarding the bid in November 2010, in which he said "it would be unwise" to intervene, as it was Cable's responsibility at the time.
He said: "Essentially what James Murdoch wants to do is ro repeat what his father did with the move to Wapping and create the world's first multiplatform media operator available from paper to web to TV to iPhone to ipad. Isn't that what all media companies have to do ultimately?
"The UK has the chance to lead the way on this as we did in the 80s with the Wapping move, but if we block it our media sector will suffer for years.
"In the end I am sure sensible controls can be put into any merger to ensure there is plurality but I think it would be totally wrong to cave in to the Mark Thompson [BBC]/Channel 4/Guardian line that this represents a substantial change of control given that we all know Sky is controlled by News Corp now anyway."
Jay repeatedly asked Smith as to his opinion on whether Hunt was supportive of the bid when he took over the quasi-judicial respnsibiltiy of overseeing it following Cable's "war on Murdoch" comments.
Smith said: "I think [Hunt's] public comments were well known. He said something along the lines of "he couldn't see a particular problem with it but didn't want to second-guess the regulators. That's something he adhered to throughout the process."
Smith said he did not believe Hunt had a particularly close relationship with News Corporation. He said: "[Hunt] did not have that much of a relationship with either of the Murdochs or the chief executive of News International."
When asked if his close contact with Michel raised alarm bells over lack of balance, he said: "No, not really. The work I would have done with Mr Michel were things that needed to be sorted out like redactions of documents...and obviously you dont need to talk to other interested parties about documents."
Michel, who gave evidence to the inquiry earlier in the day, was asked about an email sent to News Corp's Matthew Anderson, in which Smith allegedly told Michel that it would be "game over" for the opposition if strong undertakings in lieu were published in relation to the bid.
The email states: "He [Smith] very specifically said that he was keen to get to the same outcome and wanted JRM [Murdoch] to understand he [sic] need to build some political cover on the process.
"He said he would get there at the end and he shared the objectives,"
Jay said that the email seemed a clear indicator that Smith was behind the News Corp bid.
Michel said: "I wouldn't take that leap. I would definitely take comfort that we had a strong chance to see it through."
He stood by the content of his emails, despite Smith's alleged rejection of several points, which he has yet to discuss at the inquiry.
"I have no reason to believe I would have written something that did not reflect my conversation," he said.
When Smith resigned he said: "While it was part of my role to keep News Corporation informed throughout the BskyB bid process, the content and extent of my contact was done without authorisation from the secretaryy of state,
"I do not recognise all of what Fred Michel said, but nonetheless I appreciate that my activities at times went too far and have, taken together, created the perception that News Corporation had too close a relationship with the department, contrary to the clear requirments set out by Jeremy Hunt and the permanent secretary that this needed to be a fair and scrupulous process.
"Whilst I firmly believe that the process was in fact conducted scrupulously fairly, as a result of my activities it is only right for me to step down as special adviser to Jeremy Hunt."
Smith will return to the inquiry tomorrow.
© Copyright IBTimes 2023. All rights reserved.