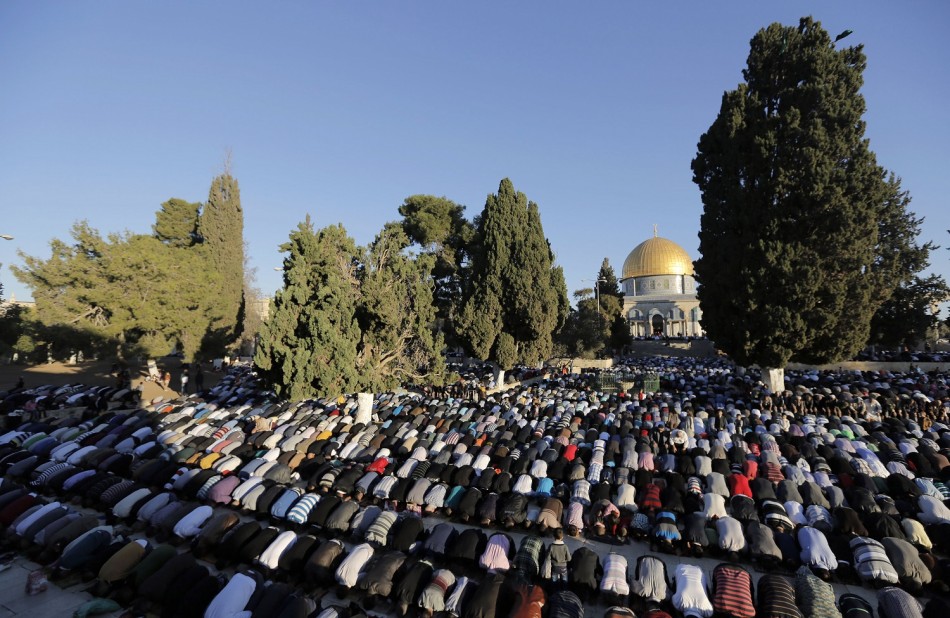 Arab-Israeli MPs have been expelled from an Israeli Knesset meeting discussing plans to allow Jews to pray in the Haram al-Sharif (The Noble Sanctuary) compound, which contains the al-Aqsa mosque in occupied East Jerusalem.
The MPs were protesting against what they perceive as a desecration of Islam's third holiest site, which has been stormed several times by Jewish extremists recently. They warned that allowing Jewish prayer in the compound would trigger "a third intifada" or Palestinian uprising.
Jamal Zahalka, Arab Knesset member, told Al Jazeera that allowing Jews to pray near the mosque would mean crossing a red line for Palestinians.
"We consider ourselves guardians of the al-Aqsa mosque. It is our duty to defend it. If they go ahead with this crazy move there will be massive confrontation," he said.
The compound, known to Jews as Temple Mount, sits just above the Western Wall plaza, where Jews are allowed to pray and is under direct Israeli control.
Far-right and pro-settler Jewish Home party is seeking legal ways to enable Jews to pray in the Temple Mount compound.
Eli Ben Dahan of the Jewish Home party, who is also Israeli deputy religious affairs minister, said he had approached the chief rabbinate, which is opposed to Jewish prayer in the compound.
"If anyone expects me to go contrary to the stance of the chief rabbis of Israel - that won't happen," stressed Dahan.
Temple Mount is considered the most holy site for Jews, as it is the place where God chose the Divine Presence to rest. According to scripture, it is where God gathered dust to create Adam, and also the location where Abraham tied up Isaac. It was also the place where Jews believe the First and Second Temples once stood. The Second Temple was destroyed by Romans in 70 AD.
According to mainstream Judaism, Jews are forbidden from entering Temple Mount for fear they would stumble upon and profane the "Holy of Holies," or the inner sanctum of the Second Temple.
The Mount is Islam's third holiest site after Mecca and Medina. It is considered to be the place where Muhammad travelled to Jerusalem and ascended to heaven.
The Haram al-Sharif site has been administered by an Islamic Waqf (trust), under the authority of Jordan, since the crusades.
Both Israel and the Palestinian authority claim sovereignty over the area.