Jerusalem stabbing: 'I am proud of my son' says father of Palestinian knife attacker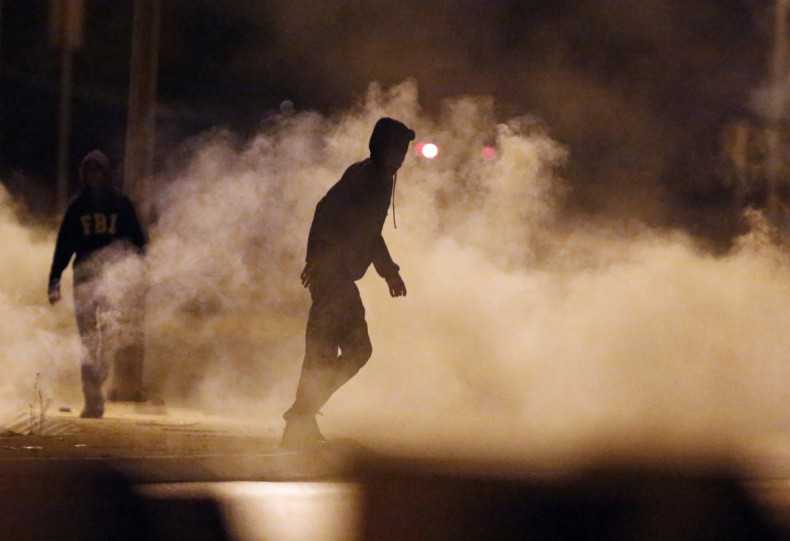 Off the main highway between Ramallah and Birzeit in the West Bank is the smart new Palestinian neighbourhood of Sorda. The road is scarred black after a night of violent clashes and green metal rubbish bins have been tossed across the street,; giant rocks lay across the road and a small scrub fire still simmers.
Inside a modern plush property Shafiq Halabi sits in a semi-circle surrounded by local Palestinian men – family and friends – who are shaded by a tethered grape vine as they quietly sip coffee. The young men drape miniature Palestinian flags from the second level of their modern house and black and yellow Islamic Jihad flags hang from the windows.
Shafiq is processing the news that his 19-year-old son Muhannad Halabi went on a violent stabbing spree in Jerusalem's Old City on 3 October killing two ultra-orthodox Israeli men – Aharon Bennett, 21, an off-duty soldier, and Nehamia Lavi, 41, a rabbi for the right-wing settlement group Ateret Cohanim, which aims to create a Jewish majority inside the Old City.
Bennett's wife, Adele, 22, and their two-year-old son were injured and are being treated in hospital. The couple were walking through the Old City on their way back from the Western Wall when the attack occurred. Lavi had heard screams in the street and rushed to help Aharon Bennett, and his wife and child when he was also stabbed. Muhannad then fired a pistol at police and tourists. He was then shot dead by police.
The killing has shocked Israel and the funerals of the victims attracted tens of thousands of mourners on 4 October, but his father Shafiq speaks of "a polite kid" who was stubborn and naughty. He says Muhannad gave no indication that he was going to carry out the attack when he dropped his son in Ramallah earlier that day so he could catch a bus to university.
"I am proud of my son and what he did − he has done what 1.5 million Muslims have failed to do," he said.
On his Facebook page, Muhannad had posted messages relating to the recent violence at al-Aqsa Mosque, which has seen riots and clashes between Palestinians and Israeli police and soldiers. On his wall, Muhannad wrote: "The third intifada is here. Our people will not put up with how the Jews humiliate us at Al-Aqsa mosque."
The attack came just days after a Jewish couple Eitam and Naaam Henkin from the settlement of Neria were killed in their vehicle in front of their four children by a Palestinian gunman on 1 October.
In keeping with Israeli policy on demolition of homes linked to violent attacks on its citizens, Muhannad's uncle, Amjad Halabi, said Israeli forces arrived at the family property early on 4 October morning. Locals came from Ramallah to help protect the house and within a few hours the family home had been stripped of everything, including kitchen fittings and light fixtures.
"We heard on social media they were going to demolish the house, so we cleared everything out. When they arrived they asked us why we had done this and that they weren't going to issue a demolition order yet. We have been told we won't get Muhannad's body until after the holidays," he said.
Muhannad's attacks was the beginning of a weekend of bloodshed in Jerusalem, with violent clashes between Israeli forces and Palestinians erupting in the east of the city after teenager Fadi Aloun, 19, was shot dead after he allegedly stabbed a 15-year-old Israeli with a knife.
Aloun's family denied he was involved and a video has since emerged showing Aloun being chased by a gang of Ultra-Orthodox Jews calling for him to be shot. Minutes later, two Israeli police officers emerge and shoot the teenager dead, as the crowd appears to celebrate.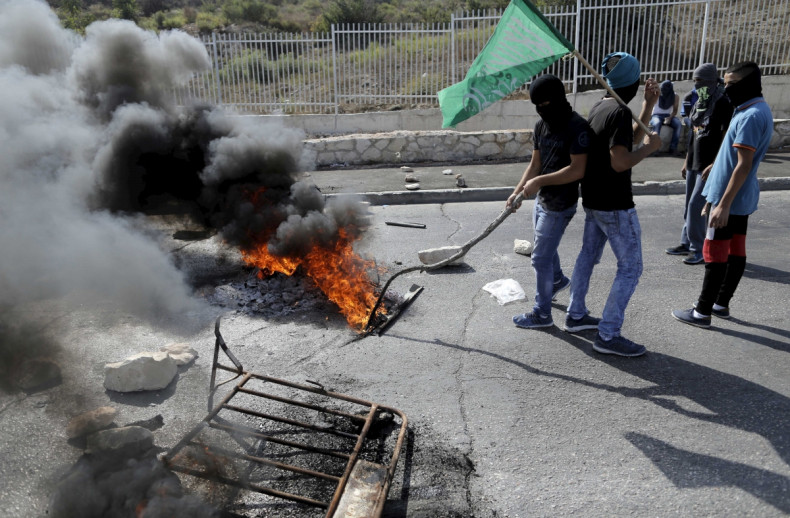 Israeli police alleged that Aloun had earlier carried out another stabbing in the Musrara neighbourhood of central Jerusalem on a 15-year-old Israeli who was moderately injured and received treatment at the site by paramedics.
With the Issawiya neighbourhood closed by police, the Aloun family relocated their mourning tent to Beit Hanina where they sat in a garden in the middle of overgrown grass on white plastic chairs next to a giant aviary as the blue shade canopy was being erected to shelter guests.
His father Samir Aloun's face was wet with tears as he spoke to IBTimes UK: "My son was a cool kid, nice, and he only ever went between his work as a plasterer and home. I know they claim he stabbed a soldier but this is wrong," he said.
"He was being pursued by about 15 settler protesters and ran toward a soldier and they shot him for nothing. He is completely innocent, he has done nothing − he is not political."
Palestinian reports claim that since that since stabbing attack on 3 October night in Jerusalem's Old City more than 100 Palestinians were wounded by gunfire and tear-gas in clashes with the army. On 4 October night violent clashes continued across East Jerusalem and the West Bank and that night an 18-year-old Palestinian youth was shot dead by Israeli forces near Tulkarem.
Meanwhile in the Old City of Jerusalem, the Israeli government announced unprecedented closures for two days, stopping non-resident Palestinians from entering the city for the first time since 1967 when Israel first captured it from Jordan. All Palestinians men under 50 are been banned from praying at Al Aqsa mosque and all entry into the mosque has been restricted to the Lion's Gate, which sits at the back of the Old City near the Mount of Olives after the two separate stabbing attacks in less than 12 hours.
In the narrow streets, metal grills and doors are bolted shut, the hum of the city has been replaced with an eerie silence after 48-hours of violence has left the historic area under lock down by Israeli forces. On 3 October night after a fatal stabbing attack was carried out in the Old City, Palestinian shop owners abandoned their stalls as Israeli border police stormed the narrow streets and by 4 October in broader east Jerusalem all the shops closed their doors in solidarity after another Palestinian man was shot dead after he allegedly stabbed a 15-year-old Israeli.
A social media frenzy unravelled as Palestinians in East Jerusalem started posting photos of the "martyr" who had stabbed and killed two Israelis and the term "third intifada" started to circulate. The word intifada, meaning "uprising", alludes to the first and second intifada, which only ended in 2005.