A heavy winter storm covered parts of the Middle East in snow, forcing the closure of all roads leading in and out of Jerusalem and sprinkling Israel's desert with a rare layer of white. Snow also fell in parts of the West Bank, Lebanon, Jordan and Syria as a cold front swept through the region.
The Holy Land's ancient sites were picture-postcard pretty. Snow capped the golden Dome of the Rock, a Muslim site in Jerusalem, dusted the Western Wall, a Jewish holy site, and blanketed the Nativity Church in the West Bank town of Bethlehem, where Christian tradition holds that Jesus was born.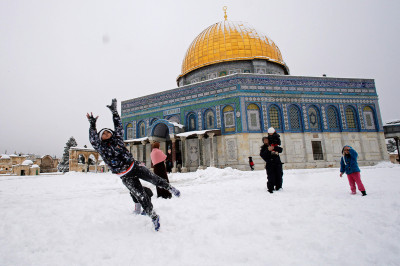 Jerusalem municipality spokeswoman Brachie Sprung said 25cm (10 inches) of snow were dumped on the city, with more forecast for later in the day (20 February).
Jerusalem's light rail tram service was shut down, after two trams – making dry runs without passengers – were derailed overnight due to the heavy snow.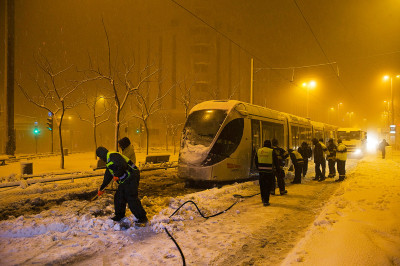 The Syrian capital of Damascus and surrounding mountains were covered with snow, and in neighbouring Lebanon, the snowstorm closed most mountain roads, isolating dozens of villages.