Marina Prusakova did not expect to see any American men on the dance floor in Minsk when she finally decided to go out on that fateful night of 17 March, 1961.
Had she followed her instincts and stayed at home, perhaps Marina would have never crossed paths with the thin, young ex-marine who had made headlines worldwide by defecting to the Soviet Union and claiming that he wanted to live there for the rest of his life.
That man was Lee Harvey Oswald, a self-declared Marxist who as a child used a "vivid fantasy life" to make up for the failings of his real one, according to a child psychiatrist.
Oswald is also the lone gunman described in the Commission Report of Earl Warren who assassinated the 35<sup>th president of the United States of America, John F Kennedy, with three bullets on Elm Street in Dallas on 22 November, 1963.
At the time of the killing, Marina was 22 and her two daughters by Lee Harvey Oswald - June and Rachel - only two years old and one month old.
Growing up fatherless in Dallas and New Orleans, Oswald never finished high school. Instead, he joined the US Marine Corps, training as a sharpshooter and radar operator.
But he was more interested in Fidel Castro and the Soviet Union so he left the marines at the age of 20 and travelled to Moscow where he tried to renounce his American citizenship. His request was turned down by Soviet authorities and Oswald was sent to work at a radio factory in Minsk, where he met Marina.
Six weeks after their first encounter at the dance, they got married. Just a week later, he told his wife that he wanted to go back to the US.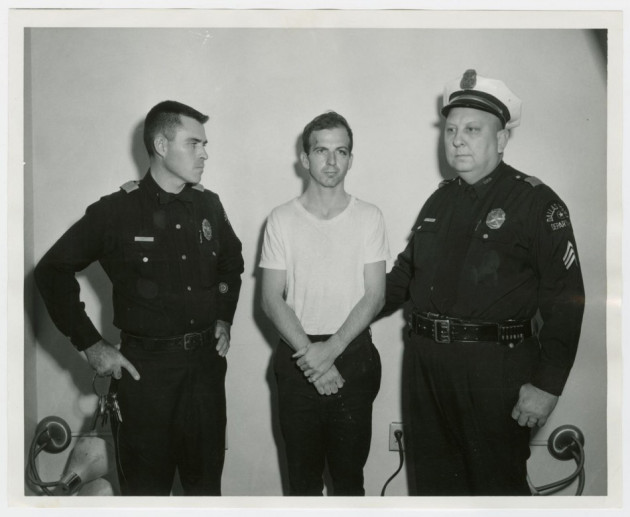 The couple bounced between Dallas and New Orleans while Oswald started to correspond with four leftwing groups, including the Communist party and the Fair Play for Cuba Committee.
As 1963 progressed, Oswald and his wife drifted further apart. In April, he told her that he had shot Edwin Walker, a retired rightwing general whom Oswald regarded as a fascist. When she confronted him about the assassination attempt, he replied: "What would you say if somebody got rid of Hitler at the right time? If you don't know about General Walker, how can you speak up on his behalf?"
The two started to argue about Oswald's fantasies, as she called them, and in November they were estranged.
Oswald, who had obtained a job through a friend at the Texas School Book Depository, spent week nights in an Oak Cliff rooming house under the assumed name of OH Lee.
Marina was living with Ruth Paine, a housewife with a failed marriage behind her. On the night of 21 November, 1963 - the night before the assassination - Paine found Oswald playing with her young son. He spent the night trying to convince Marina to give their relationship another chance - but she refused and rebuffed his attempts to kiss her, according to the Dallas News.
In the years following, Marina told journalists that her rejection of Oswald may have triggered the murder process in his mind. Author Priscilla Johnson McMillan, who wrote the 1977 biography, Marina and Lee, believed there was some truth in these fears.
"I do think that if Marina had said yes, that might have changed things," she said .
Oswald had been hiding his rifle in Paine's garage and the next day he took it with him to the sixth floor of the book depository from where he fired the shots whose echoes still ring around the world today.
Marina, who lives in seclusion in Texas, believed at first that her 24-year-old husband - later shot dead on TV live by nightclub owner Jack Ruby - was the only person responsible for the Kennedy assassination.
Over the years she changed her mind and believes now that the murder was a CIA and mafia cover-up.
READ:
JFK's Robust Public Image Hid Truth of Rare Disease