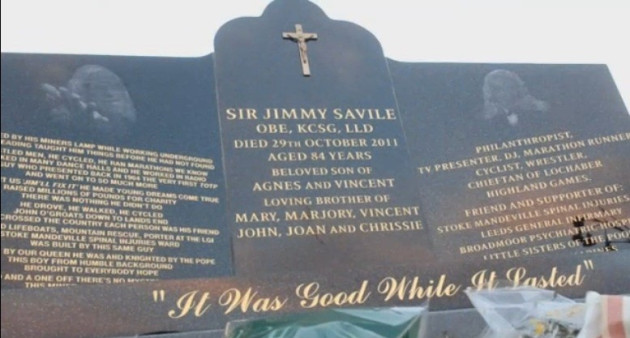 The headstone of Jimmy Savile has been removed from his grave in Scarborough out of "respect for public opinion" following allegations of sex abuse.
Savile, who died on 29 October last year, has been accused of sexually assaulting between 20 and 25 young people over 40 years.
The headstone, which has pictures of the TV presenter and the inscription "It Was Good While it Lasted", was removed from Woodlands Cemetery during the night by Scarborough Borough Council.
In a statement, a family spokesman said: "The family members are deeply aware of the impact that the stone remaining there could have on the dignity and sanctity of the cemetery.
"Out of respect to public opinion, to those who are buried there, and to those who tend their graves and visit there, we have decided to remove it."
Savile's coffin was buried at a 45-degree angle in the cemetery so his body would be facing the sea. The gold-coloured coffin was encased in concrete in order to thwart thieves who may have thought the DJ was buried with some of his trademark jewellery.
The removal of the headstone follows the vandalism of a commemorative plaque outside Savile's house. The perpetrator had added the words "paedophile" and "rapist" to the plaque.
In the wake of the sex allegations, David Cameron has said the Jim'll Fix It presenter may be stripped of his knighthood. This is despite the fact that a person cannot be stripped of a knighthood, as they cease to hold the honour once they die.
The prime minister said the case should be considered by forfeiture committee independent of the government, which has the power to remove honours.