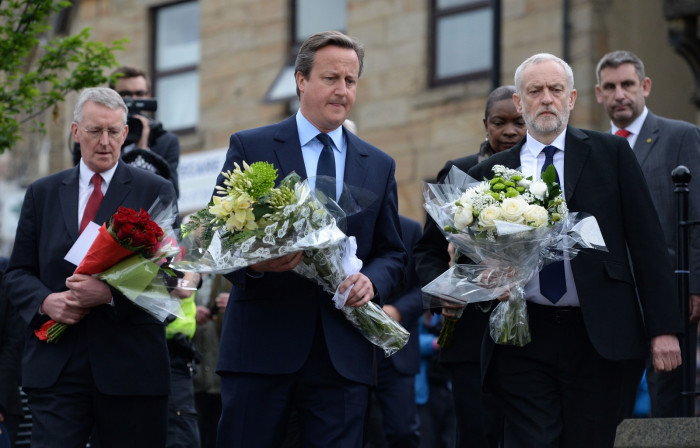 Conservative pro-Brexit MP Andrew Rosindell has been criticised campaigning during the 48-hour lull agreed by both sides following the killing of Jo Cox MP. The Vote Leave camp has also been condemned for flying a plane over Yorkshire – not far from where Cox was killed – towing a banner which said: "Control immigration vote leave."
Rosindell was campaigning in Romford town centre, part of his constituency, on Saturday, 18 June, despite both sides having agreed to suspend campaigning in the referendum until Sunday 19 June. He was seen handing out leaflets standing next to a vehicle plastered with the phrase: "Vote Leave".
The MP has yet to respond but some locals are unhappy at what they see as a mark of disrespect to Ms Cox. One local claimed that when they asked the MP's aides why he reneged on the agreement and were told it was only "light" campaigning.
"When I challenged one of them about their campaign today I was told it's a 'light' campaign as its too important not to be out," said the local, who was not identified. "Unfortunately most constituents who know Rosindell are not surprised by his actions and he does not represent the views or values of many of us here.
"To see an MP behaving this way, only two days after the brutal murder of one of his colleagues, is just awful – the worst kind of politics."
It is unclear who was responsible for hiring the plane to tow the banner over Yorkshire. According to The Mirror, the stunt had originally been planned for Friday but had been suspended for a day after Cox died.
"The banner's flight had been cancelled on Friday out of respect for Jo Cox but was rescheduled for flight on the following day," the unnamed source said.
Both the Remain and Leave camps resume campaigning on Sunday, 19 June, with the Remain camp warning of the economic consequences of leaving the EU and the Leave camp warning of equally dire consequences if the electorate vote to remain.
Tommy Mair, who has been charged with the murder of Ms Cox, will appear at the Old Bailey on Monday, 20 June.