A far-right radical, who used to belong to the BNP, has announced he will stand in the Batley and Spen by-election which is to be held after the death of Labour MP Jo Cox. Jack Buckby, who left the BNP because it became "too racist" and joined Liberty GB, says he will contest the seat even though the Conservatives, Lib Dems and Ukip said they will not participate in the election.
Former Nick Griffin protege Buckby made his announcement on his organisation's webpage and a YouTube video, emphasising that he found Cox's death "tragic" but the Labour Party was "responsible for the demographic and cultural assault on Britain which has already done great damage in areas of Yorkshire".
Buckby went on: "Too much is at stake to allow Labour to retake Batley and Spen unchallenged. The constituency is part of a region that has been turned upside-down by mass immigration, with mosques sprouting like triffids, Islamic extremism proliferating, child-rape gangs still on the loose, and long-standing English communities under threat of demographic eradication."
Apparently blaming Labour for the brutal slaying of Cox he added: "The Labour Party has blood on its hands. And by shutting down debate and labelling working class people concerned about their communities as racists, they risk driving desperate, disenfranchised people to further horrendous acts like this."
Some Conservatives are uncomfortable at the decision by the party's hierarchy not to put up a candidate as a mark of respect, pointing out that when Ian Gow was murdered by the IRA in 1990 a by-election took place – which Gow's party lost to the Lib Dems. That decision not to stand at Batley and Spen now means there could be a two-way contest between Labour and Liberty GB for the vacant seat.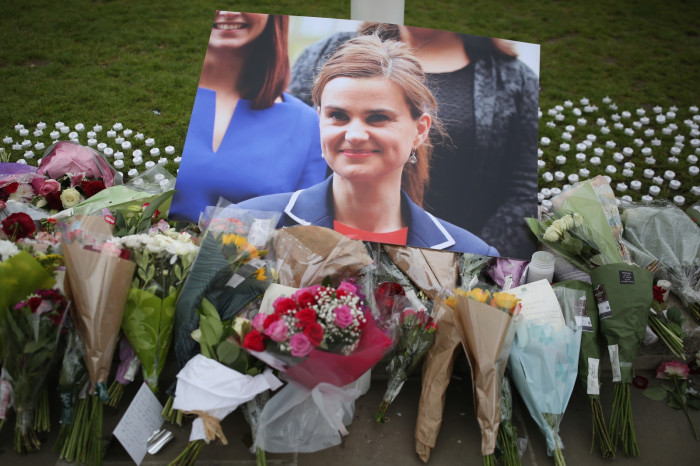 Liberty GB is a far-right, anti-immigration, anti-Islam political party founded by former UK Independence Party (UKIP) and British Freedom Party founder Paul Weston in 2013. The group's Facebook page describes it as "patriotic counter-jihad party for Christian civilisation, Western rights and freedoms, British culture, animal welfare and capitalism".