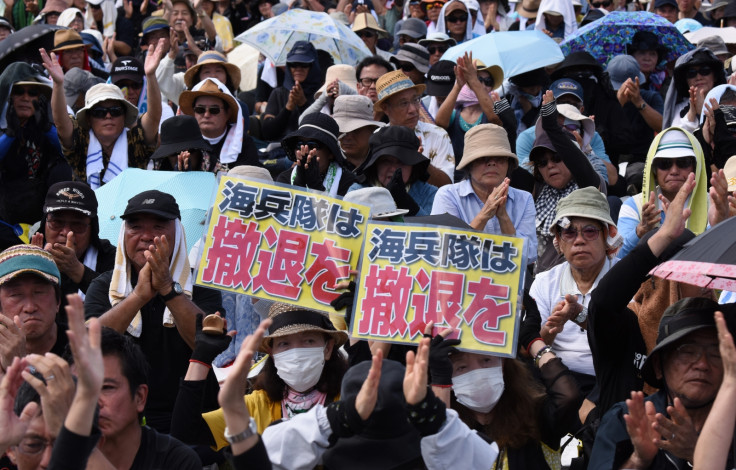 Thousands of demonstrators gathered on Japan's Okinawa Island in one of the biggest protests in 20 years against the heavy presence of the US military on 19 June. The protests follow the rape and murder of a local woman.
In April, Rina Shimabukuro, a 20-year-old local woman, was reportedly raped and murdered by Kenneth Franklin Shinzato – a former US marine employed as a civil worker at Kadena Air Base. In an endeavour to calm local anger, the military declared a 30-day mourning for the victim.
This case has escalated the long-established opposition to the US military bases – a holdover from the US occupation of Japan after World War II – and is a new low in the US-Japan security alliance.
Around 26,000 US military personnel live and work on bases that cover almost a fifth of Okinawa Island. At 1,207km sq (466 square miles) it is the largest of Japan's south-easterly Ryukyu Islands.
In 1996, discussions between Japanese and US military officials on relocating Air Station Futenma began. The move stalled due to national and international opposition, and work only began on a replacement base in 2015.
Residents living at the relocation site have demonstrated against the move and expressed concerns about the noise, pollution and crime. And the move has been criticised by notable Japanese figures, including filmmaker Hayao Miyazaki and Nobel Prize winner Kenzaburo Oe. Okinawa's governor, Takeshi Onaga, also opposed the relocation and proposed for the Marine Corps Air station Futenma to be removed from Okinawa Island altogether.
In 1995, three US servicemen – US Navy Seaman Marcus Gill and US Marines Rodrico Harp and Kendrick Ledet – who were all serving at Camp Hansen on Okinawa kidnapped beat and raped a 12-year-old Japanese schoolgirl. The attack drew attention to the limited powers Japanese police have to arrest and detain US military personnel based on the island.
Gill pled guilty to rape, while Harp and Ledet pled guilty to conspiracy to rape, at a Japanese court. Gill was sentenced to seven years in prison while his co-defendants received 6.5 year sentences. All three were dishonourably discharged from the US military.

During the Second World War, Okinawa Island served as the site for some of the bloodiest fighting between US and Japanese forces. Okinawa stayed under US occupation until 1972. More than a fifth of the island is still under the control of US military.