Tottenham Hotspur are on the brink of signing FC Porto midfielder Joao Moutinho but a move to bring Lyon goalkeeper Hugo Lloris to the club hangs in the balance.
Having sold Luka Modric to Real Madrid and Rafael van der Vaart to Hamburg, Moutinho would be a welcome addition to the Spurs midfield.
If Moutinho joins Spurs for a reported £22m, then he would smash the club's existing transfer record currently held by David Bentley, who moved from Blackburn Rovers for £17m in 2008.
Should the 25-year-old Moutinho, who starred at the recent European Championship for Portugal, agree a move he would be reunited with former boss Andre Villas-Boas, under whom he won four trophies during the 2010/11 season at Porto.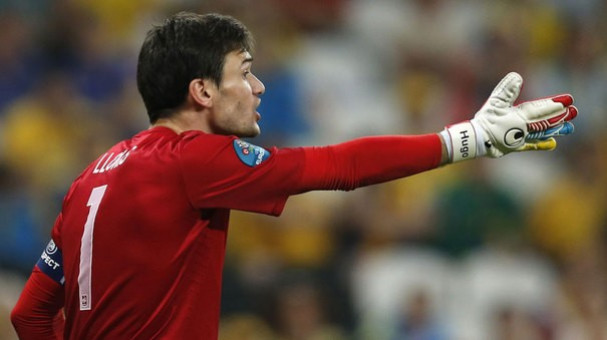 Meanwhile, with 41-year-old Brad Friedel and 38-year-old Carlo Cudicini the only senior goalkeepers on the books, the addition of Lloris would be a major boost to Tottenham's back line
However, coupled with the French international's uncertainty over whether to move to a club outside the Champions League, Lyon president Jean-Michel Aulas has attacked Spurs for the way the have negotiated the deal over Lloris, and said the deal is still 50-50.
Aulas has warned: "Nothing is done, but there are close discussions. He has been allowed to go to the club Tottenham, to be ready in case [a deal happens]."
"We have had people speaking all night with Daniel Levy," added Aulas. "He talks a lot and goes back on what we've agreed in writing. Agreements have not at all been respected.
"The first negotiation was at the start of the window, about a month and a half ago, through an intermediary who was a French lawyer, who lives in Lyon. And then nothing for about a month and a half. The negotiations then picked up again about a week ago.
"We had email exchanges which have been contradicted, so that's made it very complicated. It's difficult.
"The Tottenham board's theory is to explain that the economic market is very hard and so we have to get used to renegotiating. But for us, who are attached to a player of the quality of Hugo Lloris, and such is the value of the transfer, that causes us to ask questions.
"I would put it at 50-50 that Hugo goes to Tottenham. Although from the outset we've submitted to agreements I would now put it at 50-50 that he'll be going there."
Going the other way, Real Mallorca have confirmed that winger Giovanni Dos Santos has joined the club on a four-year deal.
The Mexican has enjoyed a torrid spell at White Hart Lane making just 17 Premier League appearances in four years, leading to loan spells at Ipswich Town, Galatasaray and Racing Santander.
Tottenham have already sign Gylfi Sigurdsson, Jan Vertonghen, Mousa Dembele and Emmanuel Adebayor this summer, and further signings now seem certain.