Liverpool manager Brendan Rodgers would like to be in contention for signing Swansea City midfielder Joe Allen should he become available.
Allen, who is part of Team GB's Olympic football squad, has been heavily linked with a move to The Reds after Rodgers' move from the Liberty Stadium
The Northern Irish boss has pledged not to sign any Swansea players during the first 12 months of his Anfield tenure, however he has revealed he would be interested in Allen should he become available.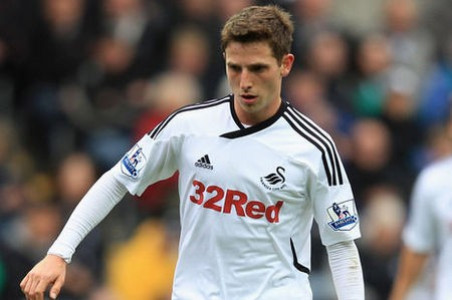 "I have a great relationship with Swansea, but if there is a market for any of the players I would like to be in that market," Rodgers told ESPN.
"He (Allen) is a very talented player, which everyone knows, but there is nothing more at the moment. When players come to a club such as Liverpool it is never straightforward."
After signing his first player since joining Liverpool last weekend, in Roma's Fabio Borini, Rodgers has been linked with a deluge of players, with Fulham midfielder Clint Dempsey another mentioned as a potential new recruit on Merseyside.
Owners Fenway Sports Group published a story on their website on Wednesday claiming they had signed the American, reports which were later removed and then dismissed by Fulham, but Rodgers insists the club's interest is genuine.
"Clint is a player we've enquired about, it is as simple as that," Rodgers told the club's official website.
"Ian Ayre, our managing director, has spoken with the club to see what the position is. That is where we're at.
"He's a very talented player but we don't like to talk about other clubs' players."
Andy Carroll is meanwhile one of those linked with a potential move away from Liverpool this summer, after an uncertain first full season at the club.
Carroll did net in the FA Cup final, but given Rodgers' appointment at The Reds, is expected to conflict with the club's enhanced footballing philosophy.
Despite being linked with a loan move to Newcastle United, Rodgers says only a permanent offer could spark Carroll's departure.
"There has been a lot written and spoken about him but first and foremost Andy is a Liverpool player," he added.
"To consider a loan period for someone the club spent £35million on isn't something we're looking to do at this moment in time.
"Andy will be the same as every other player - if there's ever an offer that comes in we'd look at it as a club and see if it's going to be worthwhile for the club and the team as a whole.
"The club invested £35million in him. People talk about whether he can fit into my style or not, but if you're a club and you spend £35million on a player you'd like to think he can fit into whatever style the team plays.
"He's a good player. He'll join the rest of the group next week and we'll take it from there."