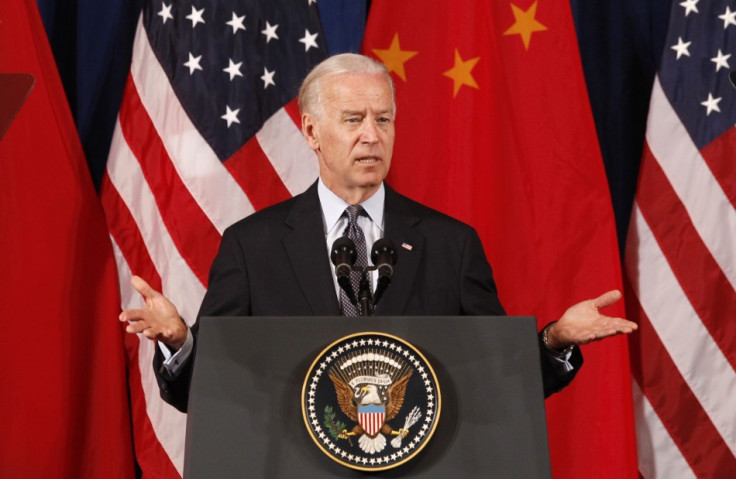 While Joe Biden's visit to China started off with praise from both camps, the attention has deviated from the political focus towards U.S. Vice President Joe Biden's friendly and chatty attitude, which is apparently not to the taste of some Chinese officials.
Relations between the press and staff traveling with the vice president and the Chinese officials guarding access to the leaders rapidly turned sour, threatening to develop into an almost farcical diplomatic incident.
Biden's schedule on Thursday was full of planned meetings and visits, including two bilateral meetings with Chinese Vice President Xi Jingping, but it seems his team was not aware American and Chinese press would not be allowed in to hear the opening remarks at the start of the first meeting.
Xi spoke first, praising Biden's visit and calling it a "major event" in the U.S.-China relationship before insisting on China's will and determination "to promote development of relations between our great nations."
Biden followed suit with remembering his first visit to China in 1979, when he saw "the great wonders" of the country and praised Chinese people and the "great sweep of history."
Just like Xi, Biden also insisted on the importance of the two countries developing closer ties and called for "openness and candor," and said of his visit that "is more than just formal visits, it's establishing relationships and trust."
"It is my fond hope that our personal relationship will continue to grow," Biden during the press conference.
While the two leaders praised one another and reciprocated their mutual admiration and will to push for closer tie, tensions in the room were threatening to transform into a full on fight, after a series of exchanges between Chinese officials and reporters in the Eastern Hall of the Great Hall of the People started to turn sour.
Within minutes of Biden starting his speech, Chinese officials tried to direct reporters toward the exits.
The Chinese move was met by protests from the reporters and the vice president's staff, who said they were here to cover Biden's opening statement from beginning to the end, and refused to leave the room.
Reports suggest that a Chinese press aide complained Biden's speech was taking far too long, but observers have since pointed out that including the consecutive translation of his comments from English to Chinese, Biden only spoke two or three minutes longer than Xi.
As the standoff between the reporters and the Chinese official continued, the atmosphere became increasingly tense, with the Los Angeles Times saying Chinese officials locked the reporters' arms and pushed forward in a show of overwhelming force.
The same problem erupted later on as Biden attended a meeting with the chair of the National People's Congress, Wu Bangguo, with Chinese officials once again accused of attempting to force reporters out of the room while Biden was talking.