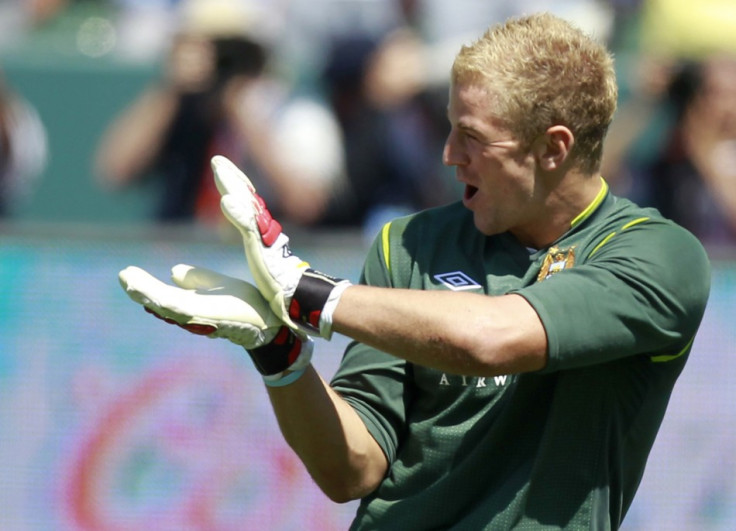 Statements involving superlatives are always tricky to make and are, of necessity sometimes, so subjective they do offer the declarer up for ridicule and former England international David James may have made just such an error. A report on Fifa.com quotes the former Liverpool and Manchester City keeper as suggesting City's present No 1, Joe Hart, is probably the best goal keeper in Europe and maybe even the world.
James, who played more than 200 games for the Reds (between 1992 and 1999) and close to a 100 for City (between 2004 and 2006), has also played in three FIFA World Cups (Japan/South Korea 2002, Germany 2006 and South Africa 2010). The goal keeper, who also had spells at Aston Villa, West Ham United and Portsmouth, spoke to FIFA.com about England's performances at the recent 2012 European Championships.
"I thought England did pretty well... getting knocked out by Italy in the quarter-finals is no disgrace; far from it," James said, adding that he had exchanged text messages with Hart during the tournament, "For years, Buffon was my favourite, but now it's Joe Hart. I think that Gianluigi is still an extraordinary goalie, but he's had a lot of injuries and that has caused his level to drop somewhat. I watch a lot of European football, and I can't think of a keeper who's impressed me more. For example, Casillas has amazing reflexes, but he has trouble with crosses and he's average with the ball at his feet. Buffon is excellent at stopping mid-range shots and at positioning himself, but his kicking game is not what it should be. Joe, meanwhile, is good at all these things, which makes him the most complete keeper playing at present."
James pointed out, in the interview, the demands of being a top goal keeper involved a need for self-driven motivation and while he confessed he saw this as a problem for Hart, because there weren't too many top class goal keepers in England at the moment, he said felt Hart is "in a very good position; the fans love him and regard him as the best goalkeeper in England by far".
"Goalkeeper is a unique position in that, if you're not injured or experience a huge drop in form, it's unusual for you to be replaced. Because of that, you need someone to keep pushing you so that you can maintain your fitness and your mindset. At the moment, clearly he's the best," James was quoted as saying, in a Goal.com report.
Interestingly, before the critical Manchester derby in last season's league triumph, Hart was quoted as admitting he had been studying videos of Real Madrid keeper Iker Casillas.
"I'm trying to work out exactly how Casillas manages to react to what the forward does instead of trying to force the striker into a decision. It is better doing it his way, using your reflexes rather than trying to anticipate what is going to happen. More and more I'm coming across different strikers or styles of play that require just what Casillas has - quick decision-making and quick reflexes," Hart was quoted as saying by ESPN.
Finally, Hart was also praised by Arsenal goal keeper Wojiech Szczesny, in the build-up to the 2012 Euros, for his consistency.
"If you're asking me who is the best 'keeper in the world at the moment, I would probably say Joe Hart," the Polish international was quoted as saying by the Daily Mail, "I know they are big words because you often think the best is not around you, it's far away in another country, but Joe has been so consistent this season it's unbelievable."