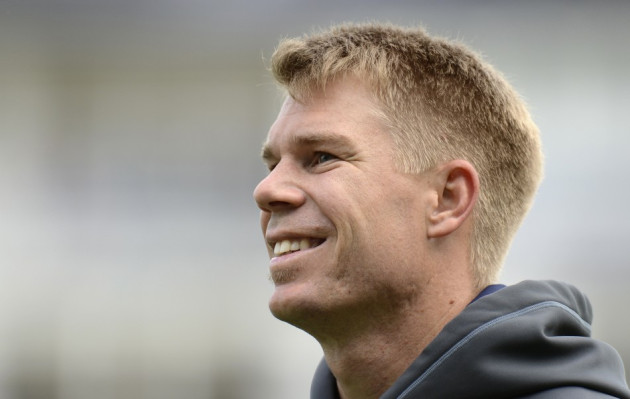 Australia's David Warner has apologised for his unprovoked assault on England's Joe Root in a Birmingham bar last weekend.
The 26-year-old has been banned up until Australia's first Test against England in next month's Ashes series on 10 July and fined €11,500 after pleading guilty to breaching Cricket Australia's code of behaviour during the early hours of Sunday morning.
But having been spared a summer long ban, Warner expressed his extreme remorse over the incident in a press conference on Thursday evening.
''The incident that occurred, I struck Joe Root in the face and I'm here today to put my hand up and apologise publicly," Warner said.
'I'm owning up, I'm extremely remorseful, I've let my team-mates, Cricket Australia, the supporters and my family down."
The Aussie opener is said to have struck 22-year-old Root while in a bar after Warner had, by his own admission, "had a few drinks." The England team had been celebrating England's 48-run win over Australia at Edgbaston.
"I won't deny I had a couple of drinks but there's no excuse for that. It was out of line. I've exchanged text message with Joe and he's accepted my apology. Looking back, I've done the wrong thing.
"The punishment handed down by the commissioner has been accepted. I'm not going to be playing any cricket for a while, so it's the little one per cent things to help the team going into the Ashes."
Warner's suspension means he will miss the remainder of the Champions Trophy and Australia's Ashes warm up games before the first test at Trent Bridge on July 10.
Although admitting the punishment handed down was harsh, Australia captain Michael Clarke condemned the behaviour of his teammate, admitting Warner's antics were not befitting of someone representing their country.
"Although the punishment for David is quite harsh that's the reality when you play for the Australian cricket team," said Clarke.
"This is not an IPL team, this is not state cricket, it's not county cricket. When you play for Australia there are standards you have to uphold. His actions have not met the standard required of an Australian cricketer. "