The multimedia campaign by jihadist group Isis (now known as the Islamic State) seemed to have taken a dramatic new course on Thursday with the release of a video depicting British journalist and hostage John Cantlie.
Unlike the organisation's most recent forays into video, with the brutal and graphic executions of James Foley, Steven Sotloff and David Haines, John Cantlie's video does not end with his death, but instead shows him begin the first in an apparent series of films in which he will "dispel the manipulated truths" of the Western media.
Speaking calmly to the camera, Cantlie - who was abducted, liberated and then re-abducted by the jihad unit in 2012 - explains that there are "two sides to the story". He says he has been abandoned by his government and therefore "has nothing to lose."
"After two disastrous and hugely unpopular wars in Afghanistan and Iraq, why is it that our governments appear so keen to get involved in yet another unwinnable conflict?" he asks.
He goes on to compel viewers to 'stay tuned': "I am going to show you the truth behind the systems and the motivations of the Islamic State and how the western media, the very organisation I used to work for, can twist and manipulate that truth for the public back home."
Though Cantlie is dressed in the same uniform orange jumpsuit as his now late fellow captives, and makes it clear in his speech that he is very much "a prisoner", no IS militants are seen in the video entitled Lend Me Your Ears.
Its narrative takes a different form from the overtly threatening and horrific videos that have preceded it, and its target audience - the Western public - demonstrates a new direction for the terrorist organisation, whose previous videos have been directed at US and UK political leaders.
Convert or clever move?
Cantlie's collected delivery and anti-Western rhetoric have raised difficult questions regarding the journalist's state of mind and phrases like "Stockholm Syndrome" have been thrown around by the world's press. Some commentators believe he could have been converted to the Isis message after two years in their captivity, while others say that, though he appears calm, he may be speaking under duress.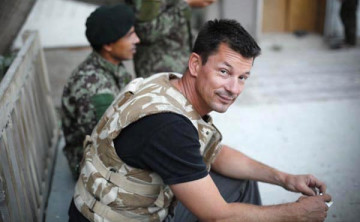 On this, experts are divided. The BBC's security correspondent, Frank Gardner, says although Cantlie is not making his speech with "a knife or gun being held to his head" he is clearly reading from a script, which could imply he was forced to make the statements.
Elizabeth McClelland, a forensic voice analyst, told The Independent that certain vocal ticks in his speech suggested he was anxious. She said: "He is clearly reading from a script, probably one that he has rehearsed. The speech and language-use of the hostage exhibited features that strongly indicated that he was acting, that he was using language that was not authentically his own."
Meanwhile, Neil Greenberg, president of the UK Psychological Trauma Society, told The Times, "I think he is speaking clearly and eruditely and I hope he achieves his aim. He certainly does not in the video appear to be exhibiting signs of duress."
Greenberg notes that Cantlie could be siding with his captors to develop a two-way relationship that could ensure his survival, and the video series is perhaps his ticket to staying alive.
"It is very important to hostages to make themselves of value to their captor. When people go through hostile environment training, you are taught to do this", Greenberg says.
Stockholm syndrome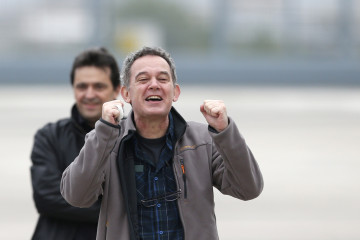 Stockholm syndrome is a psychological phenomenon in which hostages have positive feelings towards their captors, sometimes to the point of identifying with them or defending them. The FBI's Hostage Barricade Database System shows that roughly 8% of victims show evidence of Stockholm syndrome.
If Cantlie has succumbed to Stockholm syndrome, Greenberg says, it could have been exacerbated by the release of other European journalists from the clutches of IS militants.
It has been suggested that some governments including France and Germany have secretly but successfully paid ransoms to the Islamist group in exchange for the release of hostages - something both the UK and the US firmly refuse to do. Didier François, a French journalist who was released from captivity in Syria in April, described the "rough and sometimes violent treatment" at the hands of their captors.
If Cantlie was aware of the release of his fellow captors, he could be experiencing resentment towards them, "he might also have [thought]: 'Well done, it all worked out okay for you'", Greenberg says.
If and when the next instalment of Cantlie's video appeal to the public surfaces, experts will be watching closely for further clues as to the state of mind of the English captive.