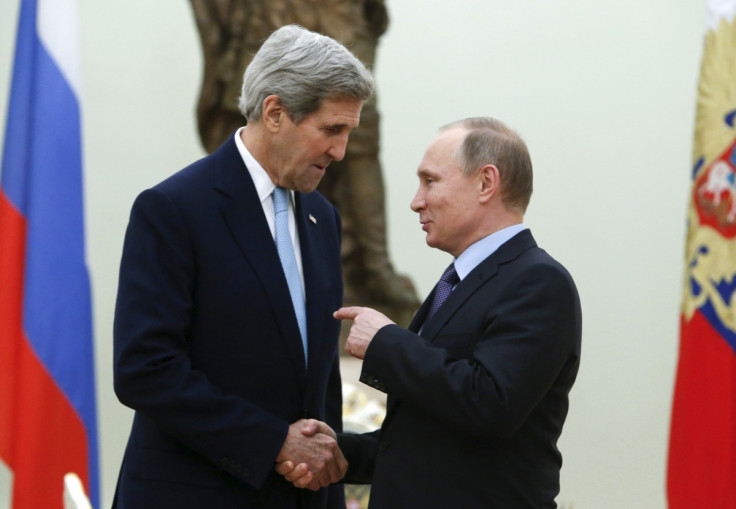 US Secretary of State John Kerry has arrived in Moscow to hold talks with Russian authorities on a range of topics including the Syrian conflict against the backdrop of the Brussels terror attacks. He will meet President Vladimir Putin shortly as he begins his three-day visit.
In his third visit within 12 months, Kerry will also meet his counterpart Sergey Lavrov with the crises in Syria and Ukraine expected to dominate the agenda. The talks between Kerry and Putin were requested by Washington, said the Kremlin.
"A meeting between Kerry and Putin will indeed go ahead," Kremlin spokesperson Dmitry Peskov told reporters. "Foreign Minister Sergey Lavrov will brief the president on their contacts. A sufficiently broad scope of issues will certainly be brought up during the course of the talks, primarily on the pressing topics of Syria and Ukraine."
When Kerry is in Moscow, German Foreign Minister Frank-Walter Steinmeier will also be visiting the country though it is not clear whether any meeting has been scheduled as yet. The US secretary earlier accompanied President Obama to Cuba.
Kerry's visit – arranged after Russia's swift announcement on the withdrawal of air strikes in Syria and Iraq – is chiefly aimed at understanding Moscow's position on the political transition in Syria. The official tour also comes close on the heels of the implementation of a fragile truce agreement.
Shortly ahead of the Kerry's arrival, the Russian foreign ministry said: "The situation in Russian-US relations remains uneasy. A series of confrontational steps made by Washington, under the pretext of the Ukrainian crisis, has dealt a strong blow to cooperation. At the same time, we continue joint work with Washington in those spheres where such cooperation is in line with Russian interests and tasks of maintaining international security."