Singer John Legend continued to take potshots at President of the US, Donald Trump. The latter called him a "boring musician" and his wife and TV host Chrissy Teigen his "filthy mouthed wife" for not acknowledging his efforts in criminal justice reforms.
John Legend had appealed to First Lady of the US Melania Trump to praise her husband in the interest of the country. Later in a new tweet, he mocked her, suggesting that she was too preoccupied with the Canadian Prime Minister, Justin Trudeau, Express reports.
The Grammy Award winner retweeted an image of FLOTUS leaning in towards Trudeau for an air kiss, and captioned it,, "Ah yes, Melania is otherwise occupied." He also apologised to Trump. The tweet has since then received over one million likes and more than 2,800 comments.
The picture was taken at G7 Summit in Biarritz, France, in August.
Legend had earlier requested Melania Trump to shower more praise on her husband. POTUS had complained of lack of praise in an MSNBC interview on criminal justice reforms. The singer was also a part of the panel discussion.
"Imagine being president of a whole country and spending your Sunday night hate-watching MSNBC hoping somebody--ANYBODY--will praise you. Melania, please praise this man. He needs you. Your country needs you, Melania," Legend wrote in a series of tweets.
Meanwhile, Legend's wife Teigen had also slammed POTUS in a series of tweets calling him "a p***y a** b***h".
The twitter war started after Trump in a lengthy tirade lambasted Legend, Teigen among other celebrities for taking credit for criminal justice reforms. He added that he was not being given due acknowledgement for his efforts in getting the bill passed.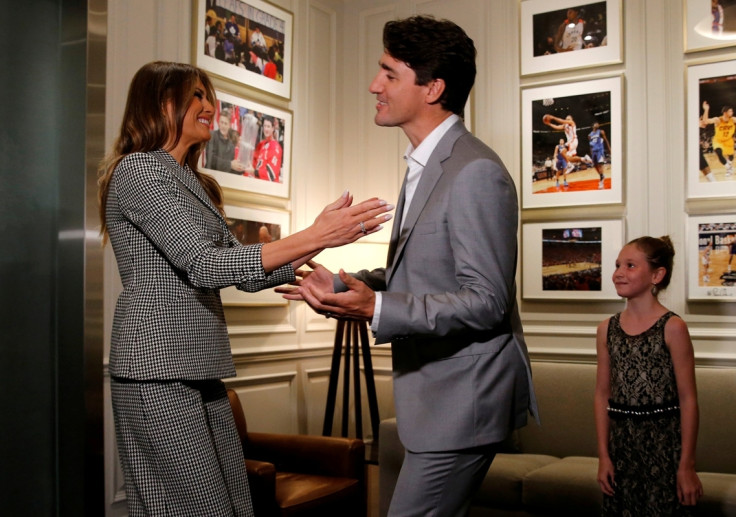 "I SIGNED IT INTO LAW, no one else did... Guys like boring musician @johnlegend, and his filthy mouthed wife, are talking now about how great it is - but I didn't see them around when we needed help getting it passed. Anchor"@LesterHoltNBC doesn't even bring up the subject of President Trump or the Republicans when talking about the importance or passage of Criminal Justice Reform," Trump tweeted.