John McAfee: McAfee antivirus is one of the worst products on the planet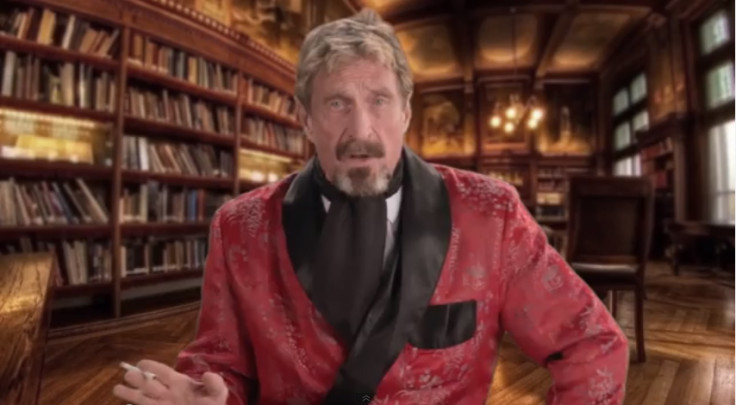 Antivirus pioneer John McAfee has said the eponymous software he created was not really up to scratch. Responding to a question in a Reddit AMA, the self-described eccentric millionaire said: "McAfee is one of the worst products on the f**king planet."
The question related to how McAfee had managed to keep a straight face when filming a well-known video titled How to Uninstall McAfee Antivirus which the businessman produced in 2013 and has since garnered more than 5.5 million views on YouTube. The Redditor asked:
Your "How to Uninstall McAfee Antivirus" video is one of the greatest things i've ever watched and something I still regularly share when someone asks how they can replace it with a different piece of software. How hard was it to keep a straight face while filming it?
McAfee, who is currently developing a range of privacy and security products under his new company Future Tense, responded by saying: "It was pretty difficult, everyone on stage was laughing, especially my wife who was the black woman who came and kissed me on the cheek. Everyone was calling me crazy, why not make a parody of myself, sniffing bath salts, etc."
When asked about Intel's decision to rename McAfee Security to Intel Security in 2014 following its acquisition of the company in 2010, McAfee added that he was pretty happy about the move. "You have no idea how glad I am about that. It's become the worst piece of SW on the planet. You cannot uninstall, scans all the time, slow as sh*t, I'd have fired them, thank goodness I've freed from association with that," he said.
Belize
Back in the 1987 McAfee was the founder of the antivirus software which bears his name but he has had nothing to do with the company since he sold his final shares in it over 20 years ago. In the intervening years the McAfee name became synonymous with frustrated PC users who found the software bundled with their computers and who found it very difficult to remove. McAfee was subsequently sold to Intel in 2010 for $7.68bn (£4.9bn) and its name was changed to Intel Security in 2014 in a bid to distance itself from the negative publicity around the software.
McAfee has also seen his fortunes change dramatically in that time with his fortune which peaked at around $100m plummeting to just $4m by 2007 following stock market and real estate crashes.
McAfee said in 2013 that despite not having anything to do with the antivirus software for more than 20 years, he still received reams of email correspondence from frustrated and angry PC users, and this prompted him to create the spook video.
Elsewhere during the Reddit AMA, McAfee answered questions about his time in Belize where he was wanted for questioning in relation to the murder of his neighbour before fleeing the country. McAfee, said it was a beautiful country but said there "is nothing illegal that the government there is not into".
© Copyright IBTimes 2023. All rights reserved.