John McAfee says he paid for hookers, illegal drugs and porn using cryptocurrency
McAfee: "So much hubbub about my admission to paying hookers with crypto."
Never one to shy away from controversy, tech pioneer John McAfee has told his 640,000 Twitter followers that he has used cryptocurrency to pay for prostitutes, drugs and pornography.
In an update to his official, verified account on Sunday (7 January) McAfee said he had, in the past, used the virtual money to pay for "food, entertainment, clothing, homes, and sex for hire services".
A day later, he added: "So much hubbub about my admission to paying hookers with crypto.
"If you want more reason to hate I will also admit to buying weed and other illegal drugs, porn, and nearly every other questionable priduct [sic] or service that you can imagine - all with Crypto when possible. Hate well."
McAfee has become an outspoken figure in the cryptocurrency world, mostly using his Twitter account, sometimes to a mixed response, in order to promote a slew of little-known Initial Coin Offerings (ICOs).
This is the process that the growing number of cryptocurrency start-ups can use to raise money.
In 2017, the rise in the value of bitcoin ushered digital currency into the mainstream. At one point, the price of a single coin was more than $18,000 – rising from $1,000 only 12 months prior.
McAfee is a product designer for a US-headquartered cryptocurrency firm called MGT Capital Investments and previously spoke to IBTimes UK about why he believes it is the future of finance.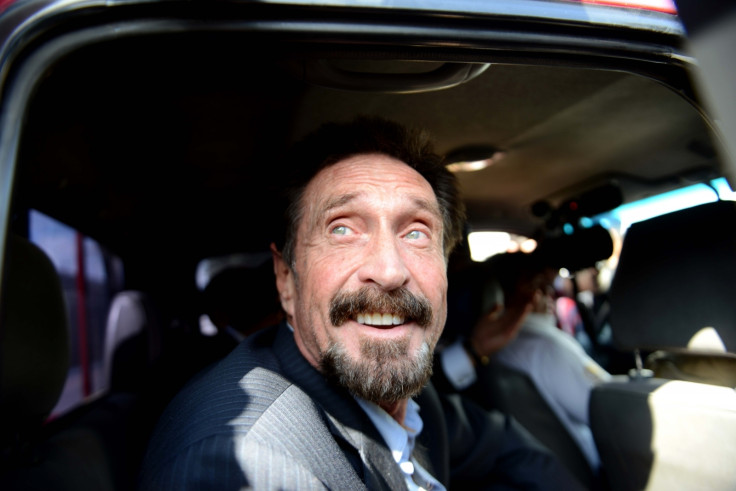 John McAfee claims he has used cryptocurrency to pay for sex and drugs
JOHAN ORDONEZ/AFP/Getty Images
In late December 2017, he claimed his Twitter profile had been hacked after his phone was "compromised." That came after his profile tweeted out a number of investment recommendations under the headline of 'Coin of the Day'. A number of fake McAfee profiles also surfaced online.
"My account was hacked," he wrote on 27 December. "Twitter has been notified. The coin of the day tweet was not me. As you all know... I am not doing a coin of the day anymore!!!!"
He added: "Though I am a security expert, I have no control over Twitter's security. I have haters. I am a target. People make fake accounts, fake screenshots, fake claims. I am a target for hackers who lost money and blame me. Please take responsibility for yourselves. Adults only please."