Anti-virus pioneer John McAfee has signed a partnership with Hacken, an Eastern European cybersecurity start-up built upon a new form of cryptocurrency, IBTimes UK can reveal.
McAfee, who works as a product designer for MGT Capital Investments Inc., will join the Ukraine-based project as an adviser in exchange for a 10% stake in the venture, it is understood.
The firm has said it hopes McAfee will bring his "network of cybersecurity experts" and prior business experiences to the table, while working in the role of "international business development partner".
In the background, Hacken, billed as a fully decentralised ecosystem for white-hat hackers, is hoping to complete a successful Initial Coin Offering, or ICO, as a way of raising money for the digital marketplace.
"I decided to support Hacken because of its business model connecting blockchain and cybersecurity," McAfee, who is heavily involved with the Bitcoin community, said in a statement.
"I was impressed by the team's determination to create a unique community backed up with its own crypto token and the burning principle they invented for controlling its volatility," he added. "I feel very enthusiastic about this partnership, which is why I'm investing in Hacken".
The deal was signed two weeks ago. IBTimes UK was forwarded a copy of the document showing the signatures of McAfee and Hacken co-founder Dmytro Budorin, a former Deloitte manager who – according to his bio – is a "top executive in Ukraine's military defence industry".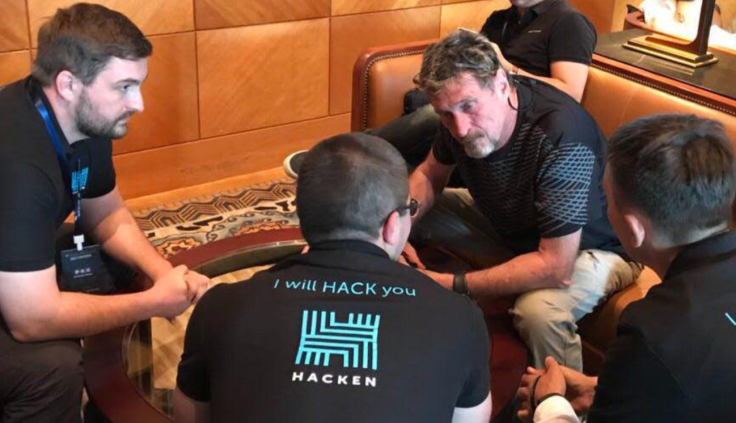 The Hacken currency (HKN) is based on Ethereum and, according to a company YouTube video, will use smart contracts to enable "distributed payments between community members".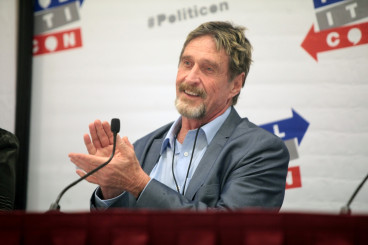 It said the ICO will fund the development of a number of key projects – including a bug bounty marketplace called HackenProof and a platform to purchase "zero day" exploits, used to target major gaps in software previously unknown to both developers and vendors.
In a statement, Hacken's Budorin told IBTimes UK: "John has persevered, pushed forward, and continues to amaze the world by inventing and designing new, outstanding products.
"It is an honour for the Hacken team to welcome such a prominent businessperson and legendary cybersecurity expert to our board at the peak of the technological revolution."
The team said McAfee's insights will help to guide the development of the overall ecosystem. Financial information about the deal – other than the 10% stake – has not been disclosed.
As previously reported, MGT Capital Investments Inc. has been developing its own suite of cryptocurrency and cybersecurity products – including a privacy smartphone and an anti-hacking tool known as "Sentinel". The McAfeeCoin has also surfaced in recent weeks.
In July this year, McAfee settled a year-long legal tussle with technology giant Intel over the use of his own surname in commercial ventures. MGT recently finalised an investment deal worth $2.4m.