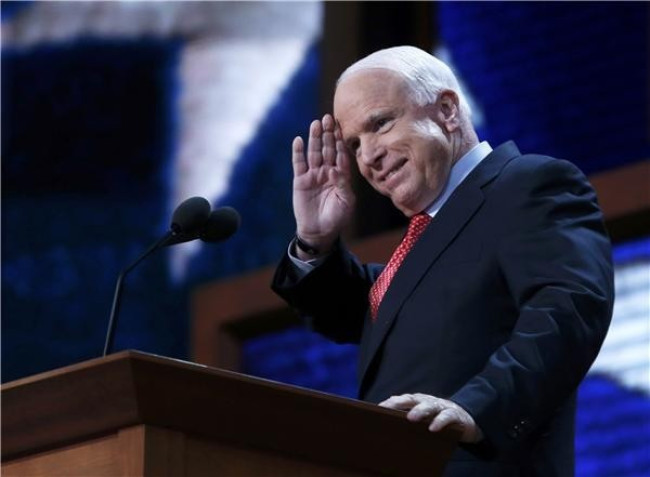 US Sentator John McCain has said he would be "honoured" if he was banned from Russia as the Republican bit back at claims Vladimir Putin was soon to issue sanctions.
The 2008 Republican presidential nominee discussed the blacklist to the Daily Beast: "You think I'm not going to be on it? I would be honored to be on that list."
Russian sanctions would be a retaliation against the Barack Obama's administration's own restrictions on high-profile Russian and Ukrainian officials.
Arizona senator McCain, a foreign policy and defence hawk, is an outspoken critic of Russian premier Putin and recently took a trip to Kiev to meet with Ukrainian officials.
He is also not afraid to shoot from the hip. Here are some of McCain's most memorable outspoken moments.
Joe the Plumber
Samuel "Joe the Plumber" Wurzelbacher became an unlikely political pawn in 2008's presidential election when McCain used Barack Obama's impromptu discussion with Wurzelbacher to claim the Democrat was a socialist. Obama went on to landslide victory over McCain to become president.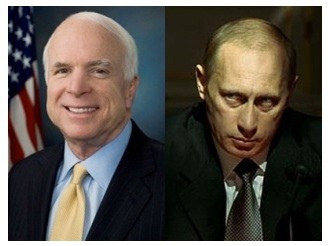 Putin calls McCain nuts
McCain and Putin had previous before the US senator's recent comments. In 2011 Mr McCain used Twitter, on which he has 1,868,000 followers, to comment on the Russian parliamentary elections. He said: "Dear Vlad, The Arab Spring is coming to a neighbourhood near you."
Putin responded to the tweet on a Russian phone-in, saying: "
"Mr McCain fought in Vietnam. I think that he has enough blood of peaceful citizens on his hands. It must be impossible for him to live without these disgusting scenes anymore.
"Mr McCain was captured and they kept him not just in prison, but in a pit for several years," he said. "Anyone [in his place] would go nuts."
"Wacko bird" Republican colleagues
McCain does not reserve his for opposition party members. Last year criticised his fellow Republicans for their attempted delay of incoming CIA Director John O. Brennan.
Referring to senators Rand Paul, Ted Cruz and attorney Justin Amash, McCain said: They were elected, nobody believes that there was a corrupt election, anything else.
"But I also think that when, you know, it's always the wacko birds on right and left that get the media megaphone."
"Bomb Iran"
McCain came under fire in 2007 when during a army veterans Q&A event in South Carolina he joked about bombing Iran. While campaigning McCain answered a question about military action against Iran with the chorus of the Beach Boys classic "Barbara Ann."
He said: "That old, eh, that old Beach Boys song, 'Bomb Iran, bomb, bomb, bomb, bomb, anyway, ah ..."