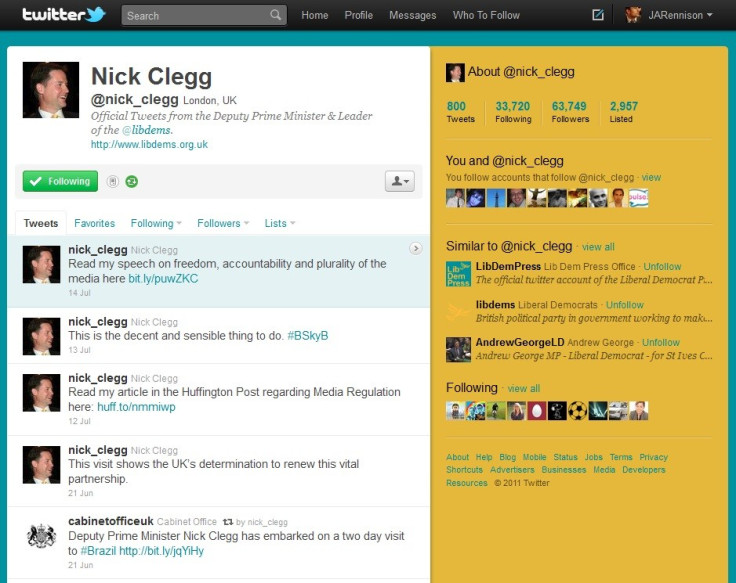 John Prescott does it a lot. Nick Clegg has been known to do it. And the speaker's wife is always at it. Twitter has taken the political world by storm, with more than a third of MP's signed up to the social media tool.
Between them, they spend almost 1,000 hours a year on Twitter, according to research conducted by westminsterpa.com, a political lobbying firm.
In a single week in June MP's sent almost 2500 messages on twitter. Researchers extrapolated this to get a figure of 118,000 messages sent over a 48 week year.
Therefore, assuming each tweet takes around 30 seconds to write, MP's are spending around 1000 hours between them sending messages on Twitter. This is just short of one day a week.
Olly Kendall, Director of westminsterpa.com, said: "They reveal a side to them [MP's] that most people don't usually see - humorous, self-deprecating and downright ordinary."
Kendall added that Twitter allows MP's to communicate with constituents and the media, "without spending hours writing press releases or blogs."
According to the research, tweeting MP's are either "lurkers", or "obsessives".
Deputy Prime Minister Nick Clegg posted just three updates in March, making him a "lurker", while Ed Miliband, Labour Party Leader, tends to post a few times every day, making him an "obsessive".
Prime Minister David Cameron does not have a Twitter profile. He once said: "The trouble with Twitter, the instantness of it - too many twits might make a ----."
Cameron is not in keeping with his party who have the largest number of MP's with profiles on the site, despite proportionally having the lowest number of the three biggest parties.
The Conservative Party have 110 out of 305 MP's on Twitter, or 36 per cent. The Lib Dems have 57 out of 100, or 57 per cent and Labour have 122 out of 255, or 47 per cent.
In January 2010 there were 111 MP's on Twitter, which has more than doubled to 275 today, with more expected to join in the future.
Jo Swinson, Lib-Dem MP for East Dunbartonshire, said she uses Twitter, "to promote local causes and groups."
She added: "It's not going to stop me knocking on doors to speak to people."
The Taxpayers Alliance said: "Some of the updates are quite banal but Twitter can be an effective way of communicating."