I thought Chelsea looked off the pace at the Etihad Stadium; we didn't look sharp or hungry as Manchester City. I can't quite put my finger on one specific problem; there seem to be a number of issues at the moment. We're not defending particularly well, individually or as a unit.
We relied an awful lot of Eden Hazard last season to produce some magic and he hasn't quite delivered. We're struggling a little bit from balls from wide areas and that is how Vincent Kompany scored City's second goal. We're just off it in all areas and I think we were second best all over the pitch, against a very good side. City just looked a yard sharper and hungrier.
There has only been six points up for grabs and there are still 36 more games to go. It is a long season but it hasn't been a great start. You could argue that actually Chelsea have had quite a tough start in terms of the opposition. Any knee jerk reactions of where Chelsea are going to finish and where the season is going to go; it is impossible to guess and too early to form an opinion. I don't think anyone around Stamford Bridge has even thought about quitting or giving up the title just yet.
The reaction to the 3-0 defeat was typical Jose. There will always be a reason that he hasn't won and it won't be down to him and it won't be down to the players. It is a way of saying 'it is not because they were better than us' it is because of other reasons and he does this every single time.
Having said that, I think the referee called the Fernandinho incident wrong. If the referee has seen it, given the free-kick and the card what has he booked him for? If he's booked him for elbow there can only be one card and it can't be yellow, it has to be a red. You want those big decisions to go your way and at the moment those big decisions haven't gone Chelsea's way.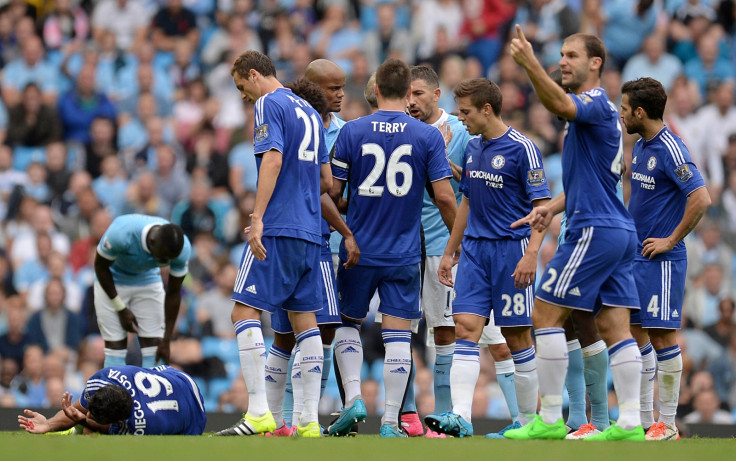 Terry career far from over but Stones is the future
Where does John Terry's half-time substitution leave his career? It difficult to predict but it is not looking great. When you're taking off your most experienced defender, your captain, when you're 1-0 down it doesn't quiet add up. When you're losing at half time and you get taken off you're more or less putting all the blame on him; that is a change to make things better.
It is impossible to answer whether this is John's last season at Chelsea. John is more to Chelsea than just the captain. Chelsea have lost Ashley Cole, Frank Lampard, Didier Drogba, and Petr Cech in the last two seasons and that presence in the dressing room cannot be underestimated. On the pitch, John is clearly not the player he was when he was 27. He was arguably Chelsea's best player last season but two games in it is very difficult to predict if he will stay on.
John is not stupid and his best days are behind him. How much longer can he go on for? From what I saw last season he has at least another year in him. We've seen it with Cole, Lampard and Cech, players being phased out.
I'd be surprised if taking Terry off was an attempt to send a message to the board regarding transfers. At 1-0 down against your closest rivals, I'd be surprised if he's used that as a way of getting a message across. I think there are other ways of doing that. Jose wanted to win that game and that is why he changed it. I don't think there was any subliminal message there but it underlines that Chelsea are in for John Stones and they could do with another body back there.
Stones ticks a lot of boxes in the modern game. He is quick, athletic, English – which with the quota adds another £10m to your price tag – and he's one for the future and he's one of those central defenders that doesn't come along that often. He has a lot going for him. He has got the ability to be one of the best defenders.
Jose not yet feeling three-year itch
I think when you look at Jose's history and the club's history of hiring and firing managers you can look at that and think it could go either way. People will inevitably speculate because of the history of the club and the manager but at the moment that is just speculation. I am not concerned this could be the beginning of the end.
No question it has been a tough week, we don't have many at Stamford Bridge. In terms of the fans they trust his judgement, he has delivered and it was a risk when he came back. He delivered last season. His stock is still very high with the fans and I don't think there is any fear the fans have lost faith and I'd be surprised if that is the case.