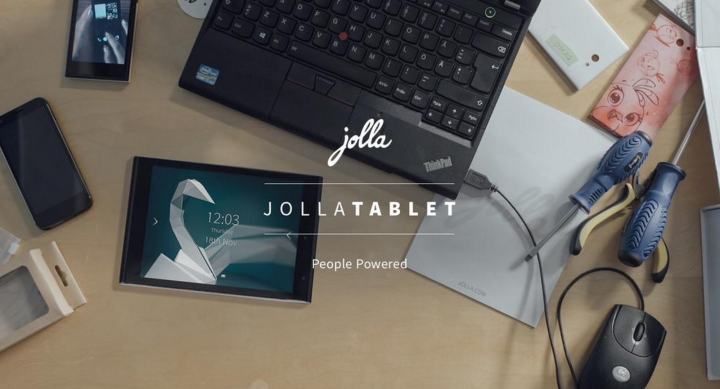 A crowd-funding campaign to help launch Jolla's first tablet using its Sailfish OS has reached its goal of $380,000 (£243,000) in just over two hours.
The Jolla Tablet, which was launched at the Slush startup conference in Helsinki on Wednesday, is a 7.9in tablet which will run the company's own open source Sailfish 2.0 operating system, which is a legacy of the failed MeeGo project from Intel and Nokia.
To help launch the tablet, which will cost $249 when it launched in May 2015, the Finnish company started a crowd-funding campaign on the Ingiegogo website which opened at 9am GMT on Wednesday morning. By just after 11am, the target of $380,000 had been reached, with over 2,400 people pledging their support for the project.
1,000 early adopters paid the special price of $189 to be one of the first to get their hands on the Jolla Tablet, with a second raft of 1,000 tablets available for the slightly higher price of $199 - though at the time of publication, just over 300 of these were left.
The company has however opened up another batch of 2,000 tablets costing $204 - though as with all of the other offers, those signing up for this deal will have to stump up an added $20 for shipping.
With 21 days still to go on the crowd-funding campaign, the amount Jolla could raise is likely to be much larger - though it is unlikely to threaten the record $19 million raised by a campaign to build a smartphone called the Ubuntu Edge (though that ultimately never materialised).
The Jolla Tablet will complement the Jolla smartphone which was launched this time last year and is now on sale in 31 countries around the world.
The Jolla Tablet is the second 7.9in device to be launched at this year's Slush conference with the Nokia N1 Android tablet being announced on Tuesday, also with a $249 price tag. Both devices will challenge the iPad mini which is currently the market leader in this sector.